Sales Reports

The new and easy-to-use Sales Reports enable you to track your existing eBay business, understand the main drivers of your sales, and help guide key business decisions. This personalized and Free report is a must-have for small- to medium-volume sellers!

Sales Reports, our basic offering, provides you with high-level sales and fee information. It's a quick and simple way to see what you've accomplished and identify areas for improvement.
Sales Reports Provide Key Performance Metrics for Your Business Needs.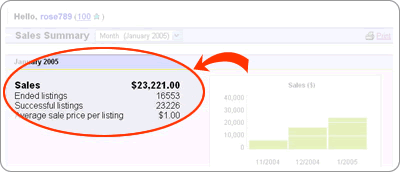 Your Sales Summary
Provides your sales activity trended over a period of time (i.e., three months)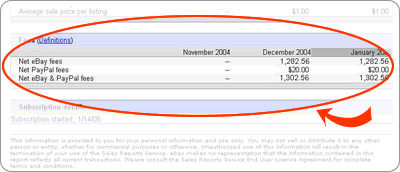 Your Fees Summary
Provides your summary fee information for a period of time (i.e., three months)
Net eBay Fees

Net PayPal Fees

Net eBay & PayPal Fees
Sales Reports Are Easily Accessible
Your personalized Sales Reports are online and available 24/7! Just sign in to My eBay and click on the "Sales Reports" link under My Subscriptions. When your new sales report is ready, eBay will send an email to your registered email address, so be sure to opt in for your updates!
Sales Reports Requirements

In order to subscribe to Sales Reports, the following requirements must be met:
Feedback score of 10 or more

At least one successful sale within the last four months