My Favorite Searches


Want to save time searching on eBay and more time buying? If you run the same search over and over again, you can save your selection once for efficient, easy access to the list of items you want to see.

Be the first to learn about new items that meet your search criteria when you use My Favorite Searches! You'll receive an eBay Favorite Search email when new items are added to eBay.

Here's how to use Favorites Searches:
Click the "Add to Favorites" link at the top of the search results page
Save your search selection
Go to "Favorites Searches" via the left side navigation in My eBay to run your saved searches
Click the "Edit Preferences" link to change the name of the search and manage the delivery of the eBay Favorite Search emails.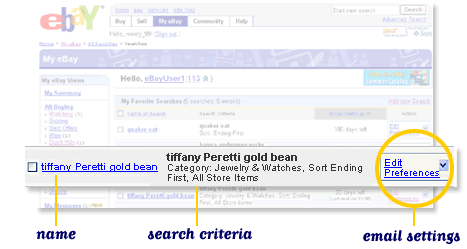 My Favorite Sellers


Find items available from your favorite sellers in My eBay. Using My Favorite Sellers in My eBay makes it easy and allows you to:
View all your saved sellers and eBay Stores in one place
Access all items available for sale from a selected seller by clicking their store name or link to 'view sellers items'
Add notes to yourself about a seller you liked and would buy from again
Manage the email communication you receive from your Favorite Sellers and Stores.
There are several ways to add a new Favorite Seller:
Go to the My Favorite Sellers page in My eBay and click "Add new Seller or Store" link
Click "Add to Favorite Seller" link from an item page.
Choose "Add to My Favorite Stores" link from an eBay Store page
Check the box next to a seller in the My Recent Sellers section at the bottom of the My Favorite Sellers page and then click the button to add them to your Favorite Sellers.
Click the "Add to Favorite Sellers" button after leaving feedback for a seller
For each saved seller, you can receive a Favorite Seller Top Picks email of top items available for sale. You can also see an online snapshot of items in My eBay by clicking on the "See Top Picks from Favorite Sellers" link at the top of the My Favorite Sellers page. For more info on Favorite Seller Top Picks for Buyers, click here.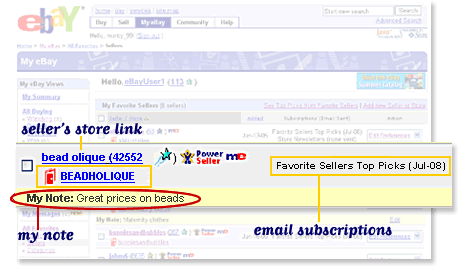 My Favorite Categories


If you often browse for items in a particular category, you'll want to save it to your list of My Favorite Categories in My eBay. This area allows you to quickly create valuable shortcuts and also:
Access and manage your saved categories in one place
View the items in the saved category by All Active, Starting Today, Ending Today, Ending Within 5 Hours
Send an email to a friend that shows a few items plus has a link to view all items in that category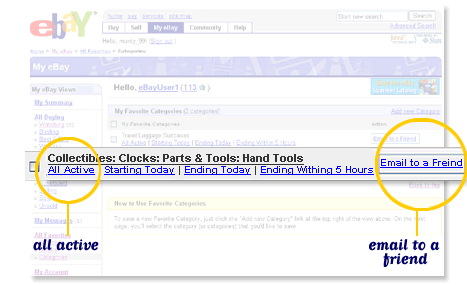 Did you know that you can access your Favorites in just one click from eBay Toolbar? Click here to learn more about eBay Toolbar. It's free!