| | |
| --- | --- |
| Favorite Sellers Top Picks for Buyers | |

Top Picks from your favorite sellers
Condensed: Allows you to see in real-time, a customized summary of top items from your favorite sellers
Controlled: You determine email frequency
Convenient: Automatically sent by eBay directly to your inbox, OR go view your Favorite Sellers Top Picks page online at your leisure

Condensed
Sign up to regularly receive a summary of top picks by your favorite sellers so that you'll know firsthand what their latest and greatest items are!

View your Favorite Sellers Top Picks online and through an eBay generated email. Choose to receive the email summary whenever you add a seller to your favorites. Add a favorite seller via these links:
On My eBay
View Item Page
Seller's Other Items
Storefront Pages
Member Profile
My eBay Watching
Bidding & Won Pages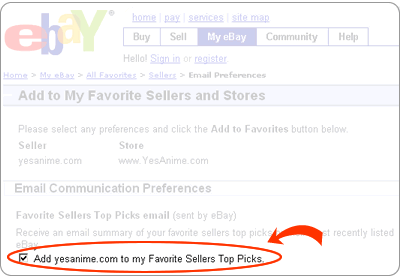 As more sellers are added to your Favorite Sellers list, their items will be added to your email. The Favorite Sellers email will include up to 4 listings per seller, followed by a link to the Seller's Other Items or Store. The email version contains listings from up to 15 favorite sellers while the online version will include all of your favorite sellers.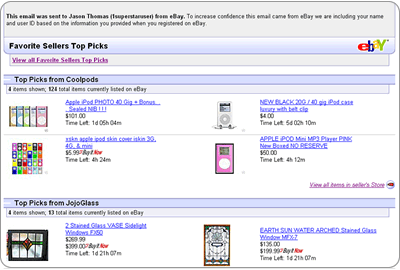 Customized
Set the frequency or edit the email communication preferences of your Favorite Sellers Top Picks email on the Favorite Seller pages in My eBay. You can choose from weekly, bi-weekly or monthly summaries.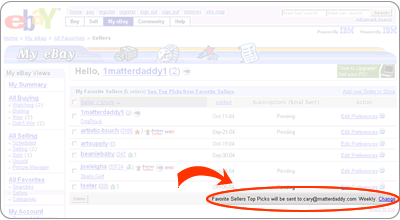 Convenient
You choose which favorite sellers you want, and eBay will do the rest. Once you determine the frequency of the Favorite Sellers Top Picks email, eBay will regularly send the email to your inbox or you can go view all of your Favorite Sellers Top Picks online anytime.