| | |
| --- | --- |
| Favorite Sellers Top Picks for Sellers | |

Favorite Sellers Top Picks Benefits:
Condensed: Your top items will be available in email digest or online format to everyone who selects you as a favorite seller
Controlled: You determine which items you want buyers to see
Convenient: Automated by eBay - sent directly to buyers inboxes and viewable online on the Favorite Sellers Top Picks page

Condensed
Buyers can now shop with ease and convenience from their favorite sellers. Sellers choose the items buyers will see and buyers have two ways to receive the summary: either via eBay generated email or online.

For the email version, buyers can choose to receive the email summary whenever they add a seller to their favorites. Buyers can add favorite sellers through links from the following locations:
On My eBay
View Item Page
Seller's Other Items
Storefront Pages
Member Profile
My eBay Watching
Bidding & Won Pages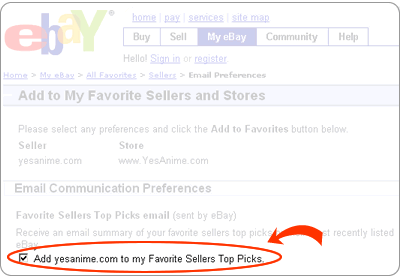 As more sellers are added as Favorites, items will be incorporated into the online and email versions of Top Picks. The Favorite Sellers Top Picks email will include up to four listings for a favorite seller followed by a link to the Seller's Other Items Store. The email version contains listings from up to 15 favorite sellers while the online version will include all favorite sellers selected.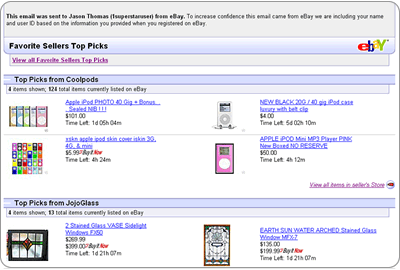 Controlled
Sellers can choose which items (up to four) to highlight in the Favorite Sellers Top Picks email and online version.

Sellers can either manually choose four items to display OR automate the selection process by setting up display criteria such as "newly listed".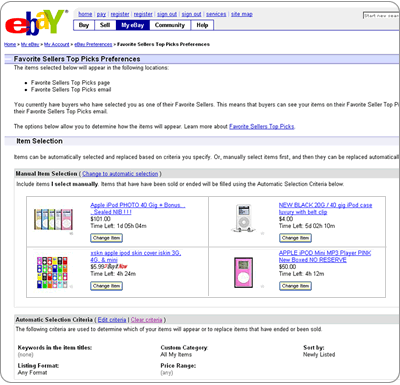 Convenient
Buyers can set the frequency or edit the email communication preferences of Favorite Sellers Top Picks email on the Favorite Seller pages in My eBay. Frequency settings are: weekly, bi-weekly or monthly summaries.