Multi-User Account Access
Increase your business efficiency by authorizing others to perform basic listing functions within your account.
What is multi-user account access?
Multi-user account access can help you to improve your business efficiency by allowing you to grant permissions to other users to access your account and perform workflows on your behalf. Your account is safeguarded because you do not need to share your credentials and other private information.
Benefits
Improve your productivity by delegating specific workflows to others.
Gain additional support without exposing your password and critical business information to designated users.
Authorized users, depending on their permissions, may also contact customer support on your behalf to resolve potential issues.
How does multi-user account access work?
The account owner grants an authorized user permissions to an authorized user to access and perform workflows, which the authorized user agrees to perform on the account owner's behalf. Authorized users must perform these functions using their own eBay accounts with their own passwords.
The account owner sets the permissions and "invites" the authorized user to perform the assigned functions. After an authorized user accepts the account owner's invitation, they can perform the assigned functions. Both account owner and authorized user manage their Multi-User Account Access invitations and permissions on the My eBay Account Settings page.
How can I start using multi-user account access?
You must be opted-in to Seller Hub to allow another user access to your account. If you are not yet opted-in, you can opt in here. After you opt in, you can grant permissions to another user to act on your behalf. Go to My eBay > Summary > Account, and click Permissions under My Account to invite your users and grant them permissions.
To grant access, enter the authorized user's name and email address. We strongly recommend that an authorized user keeps a separate eBay account from a personal eBay account they may be using to buy and sell on eBay. This will help avoid potential confusion about the account they are using. After you select the permissions you want to grant to the authorized user, click "Add user." The authorized user will receive an email invitation, accept it, and have access to your Listings tab in Seller Hub.
If the authorized user has an eBay account with the same email address, they will be taken to the eBay sign-in page when they accept your invitation. If the authorized user does not have an account with that email address, they will be taken to the Registration flow to create a new account with that email address.
Once signed in, the authorized user will have access to the account owner's Listings tab in Seller Hub to perform the functions granted to them. They will not have access to any other parts of the account owner's Seller Hub content.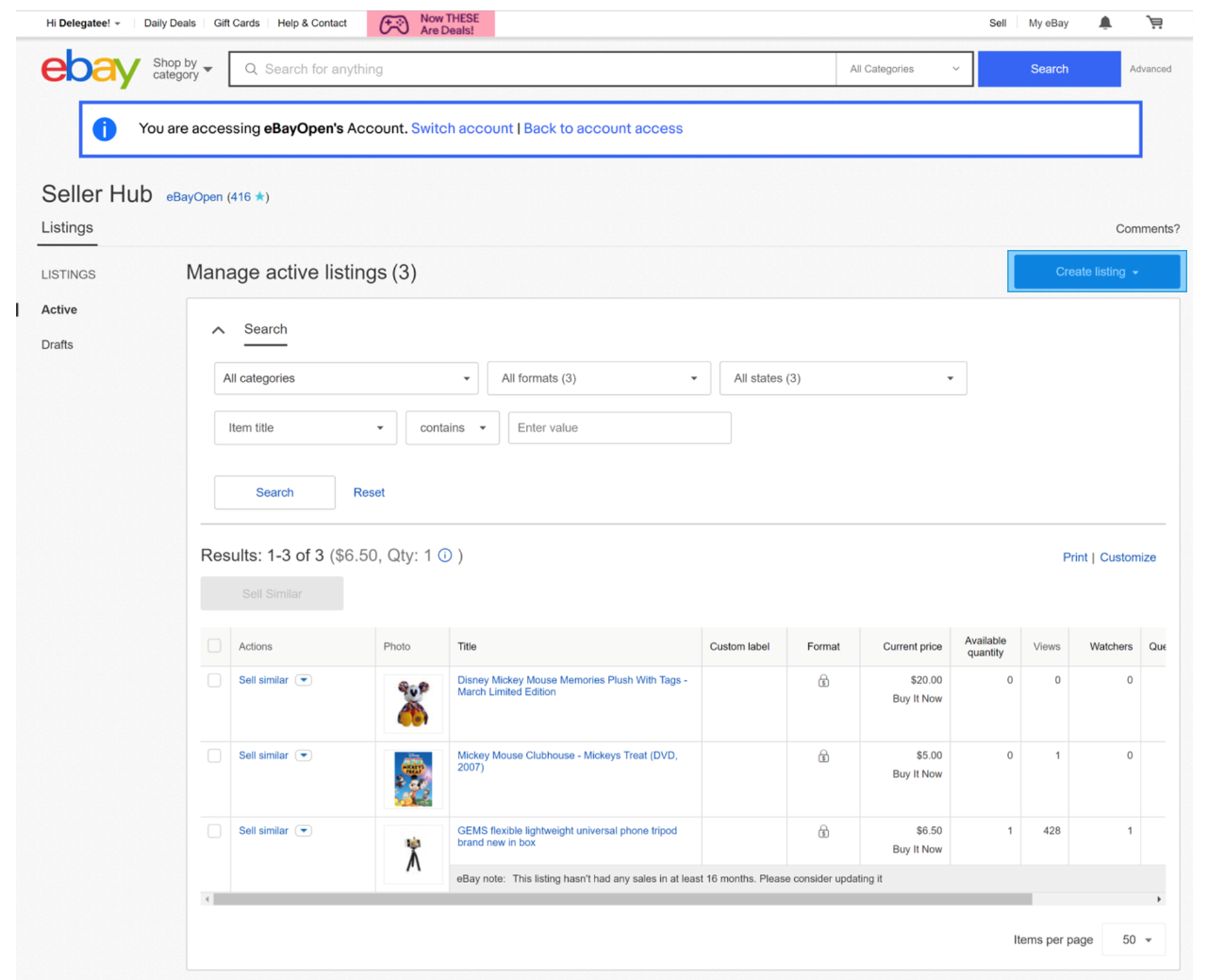 Permissions can be updated and the changes take effect immediately. When the authorized user accesses Seller Hub, they'll be limited to the functionality that the account owner granted to them. You can revoke an authorized user's access at any time.