Account Status


As a seller, it's important to know how your fees are calculated. Use Account Status as your primary tool for tracking your eBay account activity and billing details. You can access your Account Status from the Seller Account area of My eBay.
In your Account Status you can see the dates, fee types and item numbers for all eBay seller charges. This information can be printed or downloaded to your computer.
To view your Account Status in My eBay, click here.
For more help with understanding your Account Status, click here.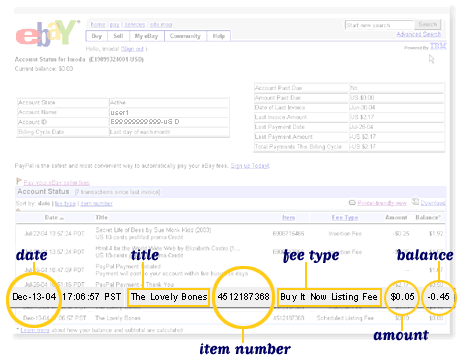 Invoices


Invoices are monthly statements of your eBay seller fees. This is the amount of money that is due to eBay. Invoice details are provided below so that you can see what makes up the total amount of your invoice for a given time period.
You can view your invoices for the past 18 months from either the Seller Account area of My eBay or from your Account Status. These invoices contain the same information that is mailed to your registered eBay email account. My Messages will reflect when the invoice e-mail has been sent, but not your detailed invoice content.
To view your Invoice in My eBay, click here.
· For more help with reading your invoice, click here.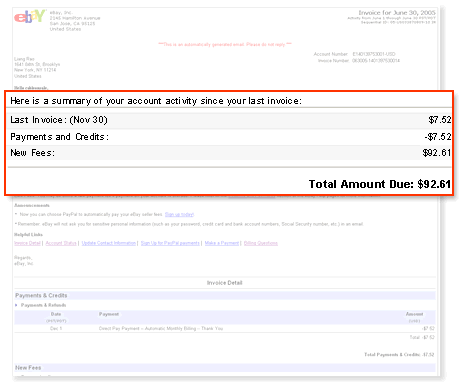 Paying eBay Seller Fees


When you list and sell items on eBay, you will be charged certain fees. There are several ways to pay your eBay fees.
In the US, the easiest and most convenient way is to set up automatic payments. You can set up automatic payments from your:

PayPal account,
Checking account, or Credit card
If you'd prefer to make a single payment for each invoice, you can do so using the following methods:

Pay using PayPal,
Direct pay from your checking account,
Pay online with your credit card, or
Mail a check or money order
To view or change your payment options for your eBay Seller Fees in My eBay, click here.
For more help with choosing a method for paying your eBay seller fees, click here.