Watch an Item
Not registered on eBay yet? You can still take advantage of some great features in My eBay. Just follow these easy steps to begin watching and tracking items in My eBay.

• Find an item on eBay.
• Add the item to your list of Item's I'm Watching.
• Go to My eBay for Guests.
• View information such as photo, title, current price and time left on up to 10 items.
• Sign up to receive email notifications for when items are ending, if desired.

When you're ready to bid on an item you're watching, you can click the Bid Now button in My eBay. Be sure to become a registered user on eBay before you place a bid on an item. Once you register, you'll see the Watched items will move to your personal version of My eBay. As a registered member, you'll be able to add up to 100 items to your Item's I'm Watching list and have more customization options.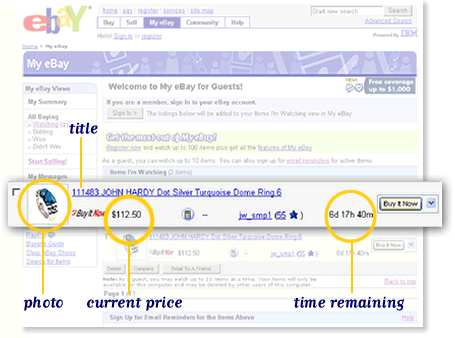 Add a Favorite Search
As a guest using eBay, you can add up to 10 favorite searches. Here's how:
Search for an item on eBay.
Save the search to your Favorite Searches by clicking the "Add to Favorite Searches" link above and to the right of the search results listings.
Go to My eBay for Guests and click on the "Searches" link in the left side navigation.
View the details, run or refine the search.
You can provide your email address to receive emails when new items matching your search have been listed on eBay.
Once you become a registered member of eBay, your Favorite Searches saved as a guest will move to your personal version of My eBay and you'll have the ability to save over 100 searches, sellers and categories.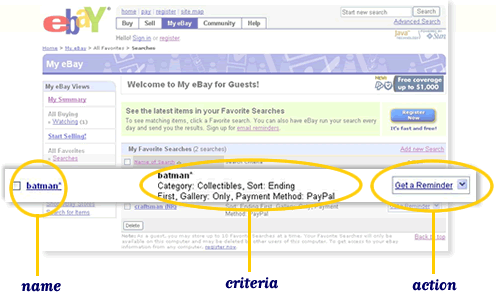 Note: As a guest, Items I'm Watching and My Favorite Searches are only available on the computer where you added the items to your watch list or saved the search. These items or search can be viewed or deleted by other users on that computer.