Do you need expert tips and advice on how to sell your clothes online? This guide on how to sell your fashion and clothes on eBay will help you make the most money. It's easy to cash in.

Are you ready to sell your clothes?
Start with a little research
Search eBay for clothes that match or are very similar to yours to give you a sense of current prices and popularity on eBay. This can help you set reasonable expectations of how much money you might get for your items. You might be pleasantly surprised to learn how much value there is in popular brand-name and designer clothes, even pre-owned clothes (in good condition, of course).

Find out how other eBay sellers describe and price their clothes to get ideas and insights into best practices for how to sell clothes online. Start your research at the Advanced Search page and make sure to select "Sold listings."
Clean your items
Cleaning your clothes is an important step to selling online. All pre-owned clothes must be cleaned prior to listing. For most clothes, this means washing and ironing. For special items—like suede, silk, and other delicate fabrics—you must bring your garments to the dry cleaners. Buyers expect to receive like-new garments—clothes that is ready to wear and free of odors and stains. Note that brand-new clothes with or without tags does not need to be laundered.
Take a few well-lit, focused photos
Great photos sell items on eBay. Your photos should be clear, well lit, and compelling.

Take clear shots of the front and back of your tablet. Place the device on a plain white background on a flat surface, like a table or counter. Sometimes, a single sheet of white printer paper will suffice. Take close-ups of any scratches or blemishes on the device screen, as well as the back. (Make sure to set your camera to its "macro" feature to take extreme close-ups in sharp focus.) Take a photo of your tablet while powered up and displaying its home screen to assure potential buyers that your device works.
Place your item against a solid-colored background. Use a light-colored or white background for darker clothes, and a dark or black background for light and white clothes. For example:

Drape a non-white blouse on a clothes hanger, and hang it on a white or light-colored wall.
Spread a white bed sheet on the floor, smoothing out any wrinkles, and lay down a pair of dark pants.

Make sure you have adequate lighting, and use natural light whenever possible. For example:

Use several sources of light, such as a floor lamp and sunny area of your house, so the area receives ample and—preferably—diffused light.
Avoid direct light, such as camera flashes and in some cases sunlight. It can distort colors and cause white "hot spots" in your photos. Ambient light is usually better for taking photos of merchandise for selling on eBay.

Take at least one photo of every component or area of your clothes, though more are better.

For example:

A shirt should have a minimum of four photos, which show the front, back, labels, and close-ups of any unique features (such as embroidery or buttons).
Direct your photo shoot as if you were a discerning and picky buyer. Imagine how a customer might scrutinize the clothes in a store. Include photos of any aspects of the garment they might examine closely.
Examples of photos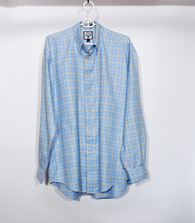 Front of shirt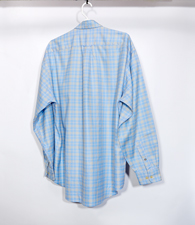 Back of shirt
Shirt label
Embroidery
For more guidance on taking photos, watch the helpful photo tutorial video on the How to Sell page and refer to the Photo Tips page.
Listing your clothes is fast and easy from your desktop or mobile device.
Select a category
Click the Start selling button on this page or the "Sell" link on the top of any eBay page. Then type the keyword describer for your item, for example, "Tommy Bahama Shirt" or "Betsy Johnson Shoes." The quick listing tool will automatically suggest product categories for your item. Pick the one that best fits your item and click the button for "Sell yours."
Write a short description
Describe the condition, size, color, material, and brand of your item.

For condition, include specifics, like a small hole, stain, or tear.

Colors may not appear the same across all computer monitors and device screens. It's therefore helpful to be specific when describing color, such as "cherry red" instead of just "red," or "Kelly green" instead of just "green."

Include the material of your garment, such as cotton. If it's a blended fabric, such as polyester and wool, let your buyers know the percentages of each material (if included on your garment's tag).

Sizes are not standardized, so it's helpful to include measurements along with brand sizing information. Buyer issues usually arise due to confusion regarding sizing, such as "XL" or "Size 10." For example:
Measurements for a men's shirt should include the length of the chest from armpit to armpit, and the sleeve length from the center of the neck (collar) to the end of the cuff.
Listings for dresses should include the waist size and dress length.
Although shoe sizes are somewhat standardized, it doesn't hurt to include the length and width of a shoe, especially for expensive women's shoes.
Indicate the item's measurements in both inches and centimeters, which help potential international buyers understand your item's sizing.
If your item is a popular brand, include its name in your listing title. If your item is a special or limited edition version, include that information in your description, too.
Determine a selling format
You can choose between auction-style listings with an optional "Buy It Now" price, or fixed price listings. Your previous research will provide some guidance about pricing and listing type—whichever offers the best chance of your finding a buyer.
Rule of thumb:
Fixed price listings give you more control over the sale price, but items can take longer to sell than with an auction-style listing. Auction-style listings can give you a faster sale, but do not provide as much control over the final price.
Enter a fixed price or starting bid
If you chose a fixed price listing, make sure your price is reasonable and based on your research in Step 1. If you chose an auction-style listing, make sure your opening bid is also an acceptable amount for the article of clothes. This will ensure you get the minimum amount you want, in case the item sells to the first bidder.

Researching sold clothes on eBay will give you the information you need to price your item. Start at the Advanced Search page and make sure to select "Sold listings."
Select a shipping service and set a shipping price
Use the quick listing tool or the eBay mobile app for suggestions on shipping services and price guidance. You may not need to weigh your item to determine shipping costs, since shipping guidance is provided based on items similar to what you are selling.
Here are quick tips to get started:
Ship the easy way with flat-rate mailers:

Some clothes are very lightweight, such as a tie or scarf. This means you can ship them in a USPS First Class Envelope, which has a 13-ounce weight limit.
If the item weighs more than 13 ounces, try using a USPS Flat Rate Priority Envelope or Box.

Provide your buyers with a shipping cost based on their location. You'll need your and your buyer's zip codes to do this.

Gather the following information:

Use a postage scale to get a close estimate of the item's weight.
Estimate the weight of packing materials, including any shipping box and padding, and add this to your total.
Estimate the package's dimensions. If you plan to use a shipping box, use the dimensions provided on the box.
You will need to select at least one shipping service, such as a USPS First Class Envelope for items up to 13 ounces. For items over 13 ounces, select a USPS Flat Rate Priority Envelope or Box.
3. Post-Sale Tasks
Accepting payment
When the buyer pays for a purchase, PayPal will alert you by email. You can keep the payment in your PayPal account or transfer it to a different bank account. If you keep the funds in your PayPal account, you can withdraw from them with your PayPal debit card or use them to purchase items on other websites that accept PayPal.
Shipping / packing
Many clothes can be shipped in a lightweight, waterproof envelope. If your clothes have fragile components, such as large buttons, protect them by wrapping your garment in one or two layers of small-sized bubble wrap before packaging it. Use a box or padded envelope that's just slightly larger than the item you sold.

For more details on shipping and packing, read eBay's Shipping pages.
Printing postage
Use eBay's Print Postage feature to select, pay for, and print out a USPS authentic shipping label that you can tape or stick to the package.

Learn more about this time-saving feature.
Shipping to your buyer
As soon as you can, take the box to your local post office or, better yet, hand it to your USPS mail carrier on his or her next round. It's a good idea to send a note to your buyer when the items have shipped. Provide a tracking number, if applicable.
Leave your buyer positive feedback
Buyers love to receive positive recognition from sellers. It's an important part of good customer service. Be sure to leave them a positive comment the minute you receive cleared payment.
Ready to sell your clothes?