Calculating Shipping Costs and Handling Time
Control costs and the time it takes getting items to carriers.
Determining shipping costs
Find out how much it will cost to get your item to its buyer. It's easy as 1-2-3.
Select your packaging. eBay offers several convenient, free and low-cost options:

Prepack and weigh your item.

Pack your item as if you were ready to ship it, but don't completely seal it yet so you can make any adjustments before sending it out.
Weigh it, and be sure to measure its dimensional weight to capture its true cost.
Shipping calculator
Estimating shipping costs just got easier, thanks to this powerful tool.
Handling time
What it is and how to set it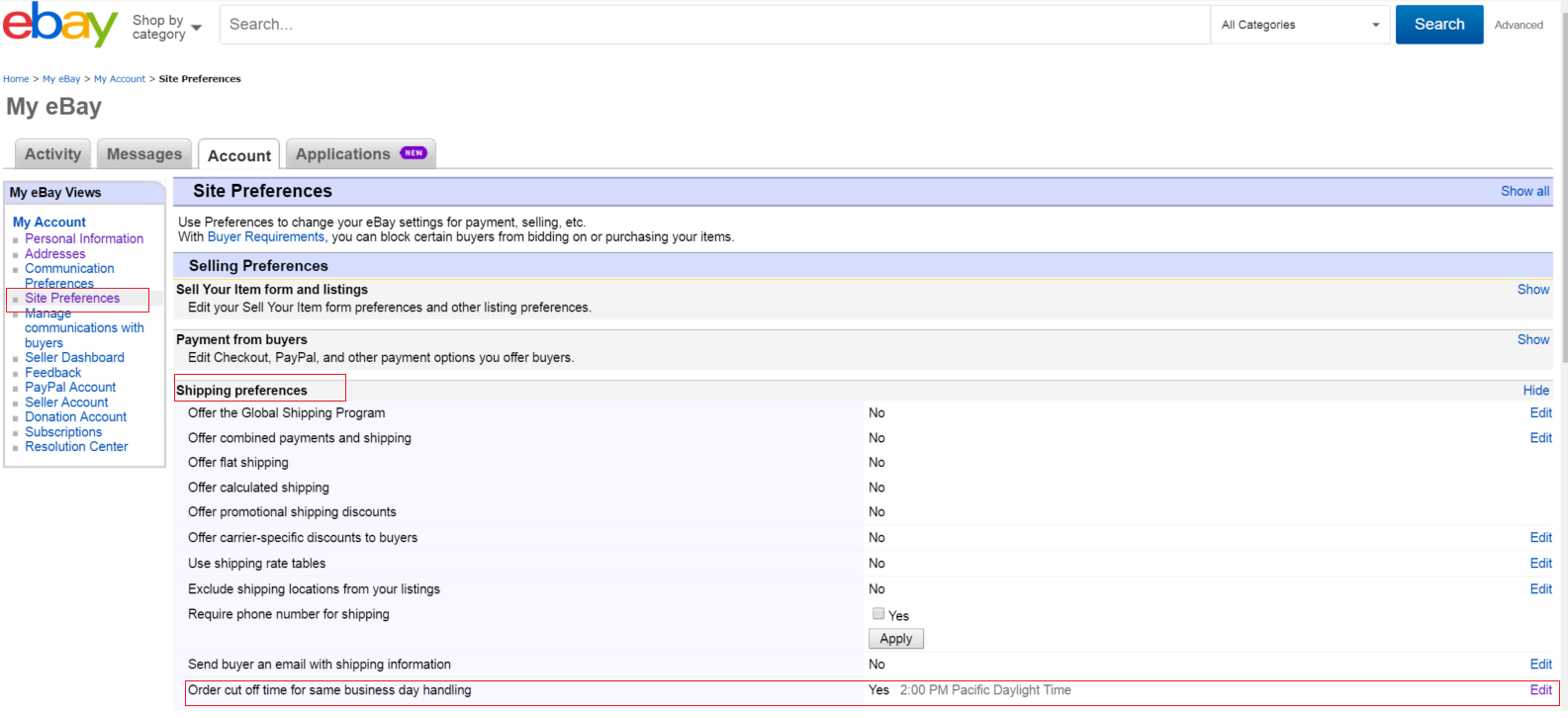 Click to enlarge
What is handling time?
Handling time is the number of business days between when you receive payment for an item and when that package is scanned by your shipping carrier.
Buyers like getting their items fast, so the sooner you ship, the happier they'll be.
How to set your same-day handling cut-off time
You're in control of your business. If you choose to offer same-day handling, you can set your own order cut-off time for each business day and automatically list that information for buyers. Learn how to offer same-day handling.
Define the days you work and your same-day handling cut-off times for each business day with the working days calendar tool.
How it's calculated
Handling time is measured in business days—weekends and holidays don't count.
The handling-time clock begins when you receive payment from your buyer and ends when your carrier scans the package.
Each day ends at 11:59:59pm. In the case of 1-day handling, if an item is purchased on Friday, Saturday, or Sunday Pacific Time, it needs to have an acceptance scan by Monday at 11:59:59pm PT.
Why it matters
Handling time is the commitment you make to get your package to buyers on time. It sets expectations and sets your listings apart from those with longer handling times. Be sure to set one you know you can meet.
Sellers have the power to set their own handling time, and meeting or beating it is a chance to offer great customer service and maintain on-time shipping performance.
Offering and delivering same-day or one-day handling can help qualify you for a Top Rated Plus discount and seal—when you offer a 30-day or longer money-back return policy.