>
Listing Visibility
Increased exposure with eBay Guaranteed Delivery, Markdown Manager and Promoted Listings updates, bundles and lots, and eBay Questions & Answers.
Overview
Gain additional listings exposure with eBay Guaranteed Delivery
eBay Guaranteed Delivery will offer buyers delivery times they can count on. Plus, it will provide greater visibility for your items because buyers will be able to filter items by delivery dates in their searches. eBay Guaranteed Delivery will be available to all buyers in Fall 2017.
Delivery speed is important to buyers. They want to know with certainty when the items they purchase on eBay are going to arrive. Offer buyers that assurance with eBay Guaranteed Delivery.
Buyers will be able to use a simple toggle to filter for listings backed by eBay Guaranteed Delivery.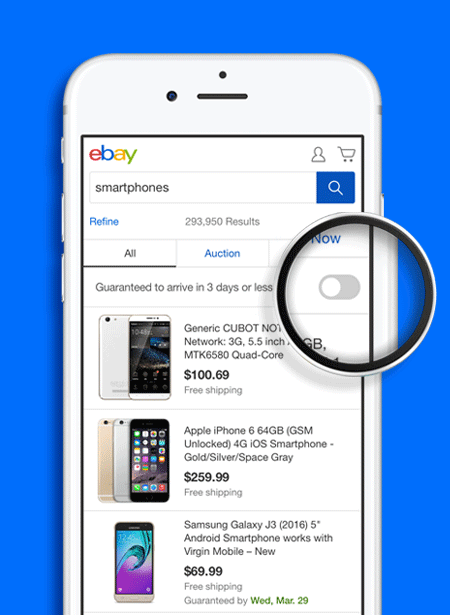 eBay Guaranteed Delivery available to all sellers in early 2018
On August 2, 2017, we announced the phased launch of eBay Guaranteed Delivery to qualified sellers. We will continue to expand eBay Guaranteed Delivery, and the feature will be available to all eBay sellers by early 2018. Learn more about eBay Guaranteed Delivery.
Two eBay Guaranteed Delivery options
You may select from two eBay Guaranteed Delivery options if you wish to participate—handling time and door-to-door options. The two options provide different levels of control, and both will display shipping times on your listings as guaranteed. Compare the options below and select the one that works best for you.
Handling time—Sellers guarantee same-day or one-day handling and use eBay labels, and eBay determines and guarantees the delivery date
Door-to-door—Sellers have full control over their guaranteed delivery dates, based on their ability to deliver to various regions and their knowledge of their carriers' service level by region
| | | |
| --- | --- | --- |
| | Handling Time Option | Door-to-Door Option |
| Business Model | Best if you can guarantee 0-1 day handling time but do not wish to guarantee delivery dates | Best if you wish to guarantee your own delivery dates |
| Requirements | At or above standard, 0-1 day handling time, offer returns, use eBay labels | At or above standard, upload tracking, offer returns |
| Delivery Date | eBay figures this out for you and guarantees delivery | You guarantee the date based on regional rate tables |
| Late Arrival* | eBay covers the shipping cost refund or free return label if you meet handling time | You cover the shipping cost refund or return label |
*If you provided free shipping and the buyer wants to keep the item despite late arrival, eBay will provide a $5 voucher to the buyer.
Markdown Manager is now part of Promotions Manager
We've integrated Markdown Manager into Promotions Manager to create a streamlined marketing tool. In Fall 2017, you will be able to mark down items and automatically create sale events of up to 45 days in duration using the same convenient tool you already use to create Order Discounts and other promotions.
All eBay Store subscribers are eligible to create markdown campaigns in Promotions Manager, and we've increased the number of items you can mark down to 10,000 items for all Store subscribers.
Create a sale event using the drop down in Promotions Manager.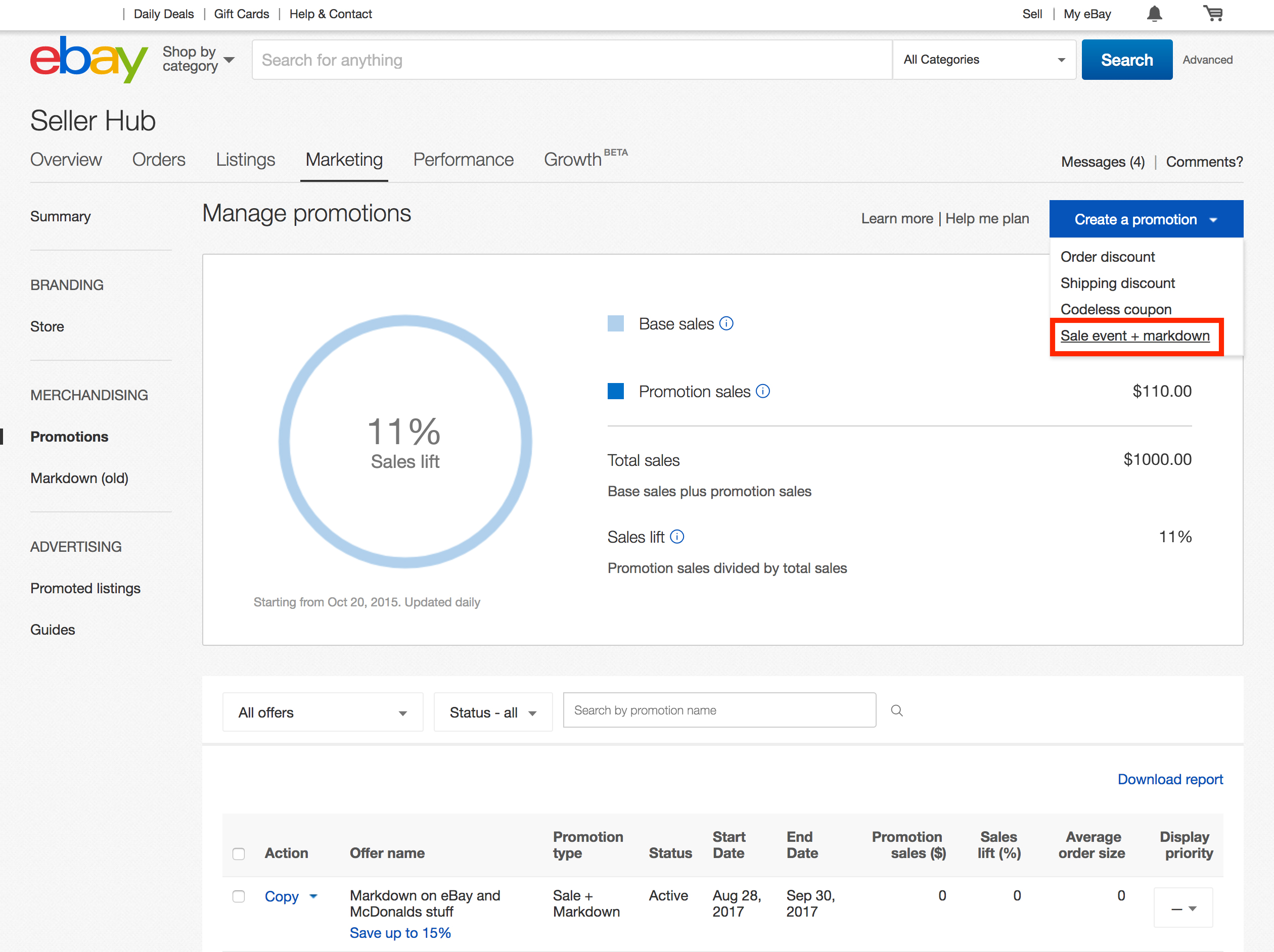 Promote single-quantity listings in Promoted Listings
You can now promote your single-quantity and unique items for prime placements on eBay to boost your visibility and sales. Promoted listings are risk-free—you only pay if your ad results in a sale.
List bundles and lots for greater visibility
Gain extra exposure for multiple-item listings with bundle (a combination of related items) and lot (2 or more of the same item) listings. Bundle and lot listings will now be highlighted in the buyer shopping experience, which helps drive interest and conversion. Opportunities for additional exposure include search results pages and product pages. Learn more about listing bundles and lots.
Give buyers information they need with Questions & Answers
In August 2017, we introduced a new Questions & Answers (Q&A) feature on our product pages. Q&A enables eBay shoppers to ask sellers and recent buyers questions about products that interest them. The answers help shoppers get the information they need to buy with confidence, and keep them shopping on eBay.
In October 2017, Q&A will be added to View Item pages. After it's added, you may receive an email request to answer a buyer's question about a product you list. Your answer will be ranked at the top of all responses on your View Item page. Other buyers can view the answers, too.
Buyers who have questions about other aspects of your listing, such as shipping options and returns, will still be able to use the "Ask a Seller" function.
FAQs
eBay Guaranteed Delivery FAQs
Single-quantity listings in promoted listings FAQs