Why Get an eBay Store
Get the most out of selling on eBay.
What is an eBay Store?
An eBay Store is your all-in-one online-business solution to get more out of the eBay marketplace and millions of buyers.
eBay Stores create a central shopping destination where buyers can learn more about you and your merchandise.
Get exclusive marketing and merchandising tools.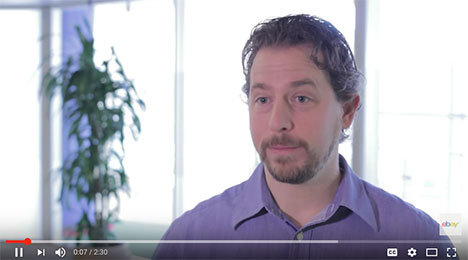 Why create your eBay Store?
Save. Get free listings and lower final value fees.*
Boost traffic. Drive buyers to your listings and Store.
Optimize listings. Use exclusive, powerful tools to optimize your listings.
Time Away. Make your absence as seamless as possible for your buyers.
Dedicated customer service. eBay Anchor Store subscribers have access to white-glove customer service.**
A competitive edge. Complimentary access to Terapeak product and pricing insights.**
Benefits that add up
See how much you get and save with an eBay Store
All Store subscribers receive*
Unlimited insertion fee credits for auction listings that end in a sale.**
As much as 60% off final value fees compared to non-subscriber rates.
Access to Promotions Manager.
Exclusive discounts to business services.
Anchor Store subscribers receive
Access to white-glove customer support by phone and email—wherever, whenever.
The biggest discount on insertion fees for listings beyond your free allocation.
A coupon for $150 toward eBay-branded shipping supplies.
We've made some updates
eBay now manages payments. If you are new to selling on eBay and are getting paid to your bank account, or if eBay already manages payments for your account, some information on this page may no longer be relevant to you. eBay will send your payouts directly to your bank account instead of PayPal. Your fees, expenses and charges will be automatically deducted from your earnings.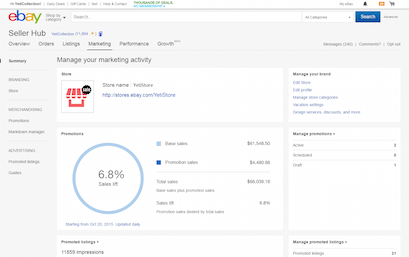 Easy management with Seller Hub
Enjoy exclusive tools—only for eBay Stores subscribers.
Manage your Store and your marketing yourself right from Seller Hub, making it easy to
Tell buyers who you are and why they should buy from you.
Boost item visibility and reach more buyers with Promoted Listings.
Get items noticed and sell more items per visit by creating promotions and markdown sale events.
Relax with time away settings
When it's time to step away, you've got the freedom to put your store and listings 'on hold.' Automatically add messaging to listings so buyers know when you're out and when you'll be back.
*Optional fees, including advanced listing upgrade fees, supplemental service fees, and final value fees still apply. Category exclusions apply. Note that Starter Store Subscribers may not receive the same benefits as the other Store levels.
**Only applicable to Basic, Premium, Anchor, and Enterprise Stores. Optional fees, including advanced listing upgrade fees, supplemental service fees, and final value fees still apply.