Small Business Central
Learn, connect, and grow with us.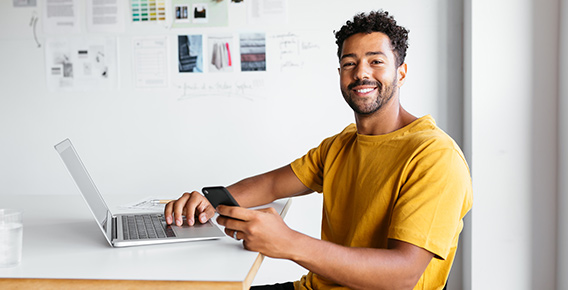 Grow your eBay business with Seller School
Virtual lessons, videos, and more to help every eBay seller thrive online. Available 24/7, 100% free.
Experienced sellers looking to scale their business are invited to join our advanced course.
eBay Seller School
Two ways to join, both 100% free.
General access
A self-guided, virtual training platform designed for eBay business sellers of all levels looking to learn and grow.
Benefits include:
Expert-curated curriculum for sellers at different stages of growth
24/7 access, so you can learn on your own time and at your own pace
A personalized dashboard to track your progress
Advanced course
Self-guided, advanced lessons for experienced sellers looking to grow stronger, faster by learning more about:
Listing, pricing, and shipping optimization
Seller Hub data insights tools
Improving seller performance ratings
Marketing strategies to drive traffic to your listings
Expanding your inventory
Scaling business operations
Selling globally
Timeline
For either option, enroll and get started with your self-paced learning anytime. Seller School is available 24/7 and 100% free.
General access
On-demand learning with virtual lessons and tutorials for sellers of all levels. Available anytime, from anywhere, and always free.
Advanced course
Independent virtual learning designed for experienced sellers ready to grow. Available anytime, anywhere, and always free.
Let's get growing
Learn
Find resources, information, and guidance you need to grow.
List
Millions of customers are just a listing away. Why wait?
Connect
The seller community is always there to share guidance, support, and friendship.
Get up and running fast
How-to videos with what you need to know, now.
More opportunities to connect
Seller Stories
StreetSounds NYC
Rocky Schiano is the third generation in a family running businesses on the same Brooklyn street. eBay has enabled him to expand his reach worldwide and share his love of music.
Mack Cycle & Fitness
Mary Jane Mark's bike shop is a multi-generational business run by women and a gem of the Miami cycling scene. eBay helps her stay competitive in today's marketplace.

eBay for Business Podcast
Bringing you a weekly dose of what you need to start, run, and grow your business.
Need help?
We're here for you, with lots of ways to get answers and support.