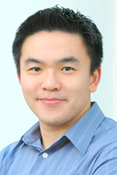 High-tech retailer and eBay giant Jack Sheng is closing in on another milestone—
eforcity
is about to become his third eBay account with a Feedback score of over 1 million. His other accounts with more than a million are
everydaysource
and
accstation
.
Eight years ago, Sheng and his partners Eugene Wong and Alvin Wong started their eBay business out of Sheng's garage. He and his partners now have 180 employees and offices in El Monte (California), China and Hong Kong, and are generating $30 million a year in revenue.
Sheng feels his 98.8% Feedback rating is one factor in his growth and success. "Although buyers may not know me, they understand from my Feedback rating that I am dependable.
"We charge actual shipping and handling costs and offer free and subsidized shipping deals."
An even bigger factor is undoubtedly Sheng's commitment to exceptional customer service, a commitment paying off in increasingly high detailed seller ratings (DSRs). In the past month he's maintained a solid 4.8 for Shipping Costs-a full 2 point increase over his 12-month average.
To achieve this, Sheng tested a variety of pricing structures and established one that works for his bottom line and DSRs. He found that offering
free shipping
not only boosted his DSRs but resulted in a spike in sales. "It's all about trying different methods and finding what works for you."
What's Sheng's next goal? Not surprisingly, he wants to reach 2 million Feedback faster than he accomplished 1 million.