You decide. ShipCover makes it easy to buy coverage for either domestic or international USPS shipments, claims are handled much faster than USPS and our rates are frequently lower.


Currently, ShipCover is only available for eBay shipments when you use USPS. We may include other carriers in the future.


You can file a claim by visiting the "Sell" area of My eBay. Under "Shipping Labels" select the "Period" from the pull-down menu on the right. Find the item number, click on "More Actions" then "Create Claim."
See below: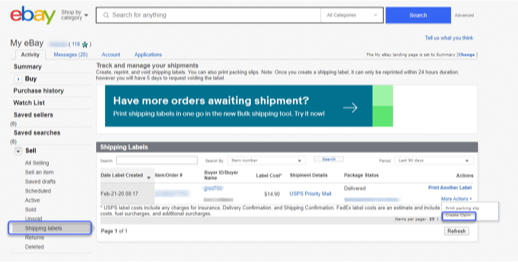 If you use Seller Hub, here's how to file a lost or damaged claim:
Go to

Shipping Labels

in Seller Hub.
Find the shipping label for the item and select "Create claim" under "More Actions."
Fill out the claim form.


No, after you file a claim, we'll need to verify whether the item was damaged in transit or never received. Your buyer can verify your claim by either opening a case in the eBay Resolution Center or with PayPal Buyer Protection. If your buyer has not opened a case, ShipCover sends an email to him or her with details on how to complete the verification process.


The following countries are excluded from ShipCover insurance: Belarus, Cote D'Ivoire (Ivory Coast), Cuba, Iran, North Korea, Myanmar, Russian Federation, Sudan, Syrian Arab Republic and Zimbabwe. (This list is subject to change.)