Display Settings
Establish a professional presence by adding your own Store logo, name, and description. Create your own brand by selecting a design theme, color scheme, and other display settings.
Manage My Store
Store Categories
Help buyers browse your virtual shelves. Create and organize up to 300 categories and subcategories for your Store.

See how-tos and samples

Custom Pages
Build your brand with Custom Pages to create a unique home page, provide a sizing or selection guide, promote special pricing, and more.

See how-tos and samples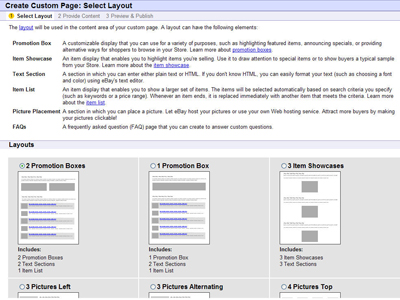 Quick Store Tuneup
Use Quick Store Tuneup to maximize the effectiveness of your store.

See how-tos and samples