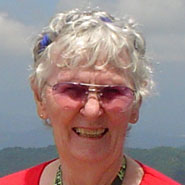 "The biggest surprise is that it's so much fun! I make enough to pay the little bills: my dog's haircuts, the TV, the phone."
-Gerry Walker
We'd love to hear your story:
Get inspired & inspire others
---
More success stories
Family treasures bring surprising rewards
---
When Gerry Walker inherited a mountain of collectibles from her mother and aunt, she started selling them on eBay as a way to dig through them. Now this selling helps 772geraldine pay the bills and enjoy life to its fullest.
Gerry Walker (user ID: 772geraldine) has always enjoyed selling. Over the years she's sold everything from custom-made party trays to real estate in the real world. Still, she is amazed at how much she's enjoying selling on eBay from her Blairsville, GA home. "The biggest surprise is that it's so much fun!" she says. The extra cash also helps cover small household expenses. "I make enough on eBay to pay the little bills: my dog's haircuts, the TV, the phone. It's a nice way to make some money."
Finding new homes for cherished heirlooms
Gerry was knee-deep in family heirlooms when she first decided to give selling a shot. "I felt like I was living in a storage warehouse," she remembers. "My mother and my aunt were both collectors. Mother alone had 7 sets of dishes—I've sold 2 so far on eBay—and my aunt had all kinds of little collectibles. Plus I have a house full of my own stuff. My daughter, who's done a lot of selling, encouraged me to try eBay."
Gerry gets satisfaction from knowing her family's treasures go to people who truly want them. "I thought I'd put stuff on eBay, people would buy and that would be the end of it. But customers write to say how much they love what they've bought, or how beautiful something is. It's all going to people who really want and appreciate what they're buying. I know they'll keep and cherish these things. It's really special."
Making these connections with buyers has become Gerry's favorite part of selling. "I love talking to people and always tell buyers a little history about their item. I sold some bronze bookends that belonged to my dad. I told the buyer that they were his favorite bookends and that they were really old because he died back in 1977. She wrote back to say she was replacing an identical set her dad gave her that were lost in a move. It felt so nice!"
Shipping with care
To ensure items with sentimental value make it to buyers in one piece, packing takes top priority for Gerry. "I get a lot of compliments on my packaging. If it's china, I double box it. I also cut up those swimming pool noodles for cushioning. They make great packing material."
Gerry's also found that fast shipping makes a big difference to buyers. "I always ship immediately and try to get things to people within a day or so. I don't like waiting to get things, so I never put it off," she explains. "I also print shipping labels on eBay from home. It's really convenient."
What to sell next
Deciding what to get out the door next has become Gerry's latest obsession. "I run around the house with one of those USPS Flat Rate Priority Mail boxes and anything that fits in it, I put on the list."
One great find was a blue cowboy hat, hidden at the back of her closet. "I bought it at a fancy consignment shop several years ago when I was line dancing down in Florida. It was too big, so I just put it in the closet. Pulling it down, I noticed it said B.R. Ranch, Jupiter, Florida. It was a Burt Reynolds cowboy hat! It looked just like the one he was wearing in a publicity shot for Smokey and the Bandit. It sold in 2 hours for $75."
Perfect for night owls
The best part for Gerry is that she can do it all—from listing to email—on her own schedule. "You don't have to go through the rigmarole of running a physical store where you have to sit and wait. You can sell from your house any time you're up for it. I can nap at 5pm and get up and sell at 2am if I want. With eBay, people are busy shopping when you're not even there."
Just do it
Gerry encourages anyone who's thinking about selling to jump right in. "The attitude you have to have is nothing ventured, nothing gained. Just give it a try. It's not hard to do." She has these 5 tips for other beginners:
Order some free USPS Flat Rate Priority Mail boxes and start out selling stuff that fits in them. It's hard to go wrong with shipping charges that way. If you don't use those boxes, be really specific about the size, weight, and shape of the package so you get the postage estimate right the first time. You can't tell somebody it's going to be $15 instead of $5.

Describe your item so it really speaks to people—so customers can visualize how it will look and feel when they pick it up. Include the size and color or material. I'll say if a pair of shoes is suede or if a walnut tray has an oil finish. Be extremely specific about any damage, scrapes, or anything that's not quite right. You can put a lot of details in your listing titles—you have up to 80 characters—to help buyers find your stuff.

Include one or more pictures. The first photo is free, and in some categories, they're all free.

It's really easy to list CDs and movies if you type in the UPC code from the back. eBay brings up all the information about it—even a picture—and zaps it into your listing.

Communication is important in any field. If people send you questions, be quick to respond. I check email 2-3 times a day and sometimes in the middle of the night if I'm up. You have to be very clear, specific, and always straightforward.
As she continues to learn and grow in her eBay selling, Gerry hopes to motivate others in her community to sell, too. "Once I get more experience, I would really like to teach a course at one of our volunteer centers. It would be a great thing to teach other older people," she says. "We have a lot of retired people in the community and they have so many things. You look around your house and see all the stuff you've treasured and you really want it to go to somebody else who will love it as much as you did."