SEO unique product identifiers
Learn how to include unique product identifiers to get your listings found by search engines
Including unique product identifying codes in your listings is one of the most important things you need to do to make sure your listings can be found by search engines including eBay, Google, and Yahoo. Many items in categories including Home & Garden, Toys & Hobbies, Business & Industrial, and many others have unique identifiers such as Universal Product Codes (UPCs), European Article Numbers (EANs), International Standard Book Numbers (ISBNs).
Be sure to include the code for your item in the designated field whenever you list. See the location of this field for each eBay listing tool below.
It's also a a good idea to include the item brand name and the Manufacturer's Part Number (MPN) in Item Specifics whenever available.
Sell Your Item
See the location of this field below: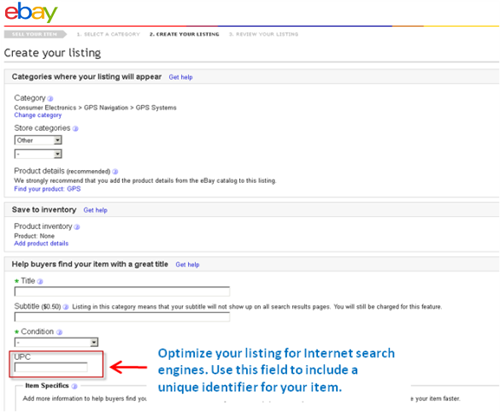 Turbo Lister
See the location of this field below: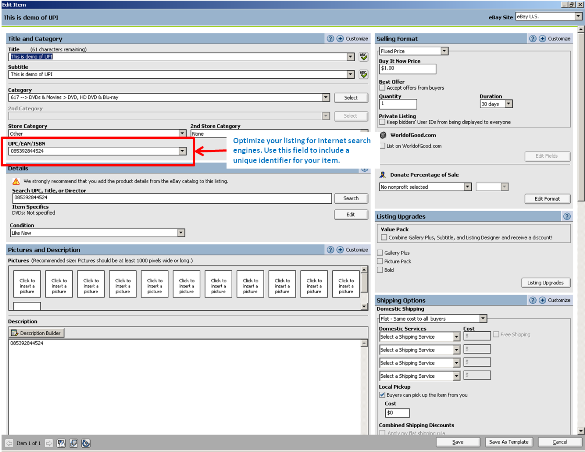 Download the New Business Selling Guide.
Download the Advanced Business Selling Guide.
Attract buyers and boost sales up to 11%*.
The Global Shipping Program makes it easy.
Learn how customs delays won't affect you.
Find out which seller tool(s) are right for you.
Tips for Following on eBay
Connect with other eBay sellers and get the tools, tips, and inspiration to grow your business.