Boost your item visibility
Promoted listings is available to all active eBay Stores subscribers in the US, UK, Germany, and Australia.
Promoted Listings Explained
With promoted listings, you can increase the likelihood of a sale by putting your best merchandise in front of buyers who are actively searching and shopping. Your ads may appear in prominent locations on eBay based on several factors, including your chosen ad rate and how relevant the item is to a buyer's search. As an Anchor Store subscriber, you'll also get $25 promoted listings credit per quarter.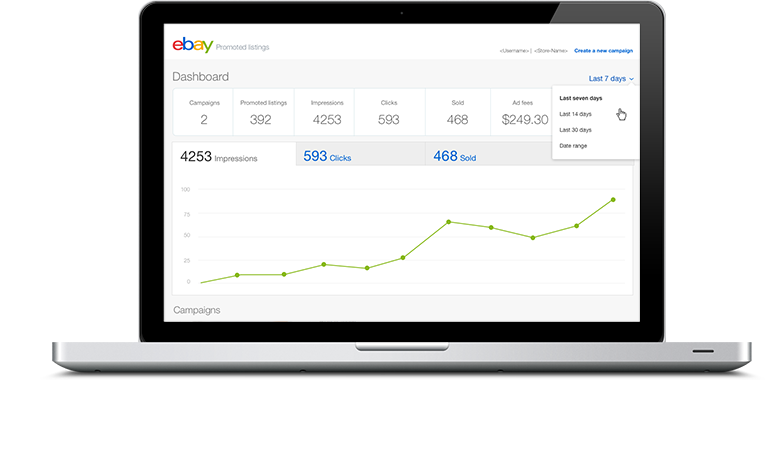 Optimization Starts with Your Dashboard
Review impressions, clicks, and sales to measure your success
Optimize campaigns by testing different items and pricing strategies
Launch new campaigns to maintain your competitive advantage
Set a competitive ad rate
Your ad rate is an important factor that influences the chances of your ad appearing. See current ad rate averages to help you determine the rate you want to set. If you're an Anchor Store subscriber, be sure to take advantage of the $25 promoted listings credit per quarter.
Make the Most of Your Promoted Listings
Getting started with promoted listings
Discover tips, strategies, and best practices to take your marketing to the next level.
A seller's guide to online advertising options
Now more than ever, businesses are harnessing the power of online advertising. In this guide, you'll learn some of the key considerations of online advertising and discover the how to advertise your listings on eBay.