Boost visibility with Promoted Listings
Promoted listings is available to all active eBay Stores subscribers in the US, UK, Germany, and Australia.
Seller Center
Promoted Listings
Promoted listings is a smart and risk free way to get your items noticed on eBay. It puts sellers merchandise in front of more active shoppers, boosting item exposure by 30% and increasing the likelihood of a sale.
Benefits of Promoted Listings
Boost item visibility by 30%*
Promoted Listings puts your merchandise in front of more shoppers and boosts item visibility by 30%*, thus increasing the likelihood of a sale.
Pay only when your item sells
You are not charged until a buyer clicks on your ad and purchases the item in 30 days
Monitor your success
Access to data to monitor performance and fine tune your campaigns to maximize sales
✓ Anchor Store subscribers receive free $25 credit for promoted listings each quarter.
Simply start using promoted listings service and we will automatically credit the amount.
What Sellers are Saying
"Promoted Listings has given us the ability to increase exposure on key items during high seasonality time periods and drive traffic to low performing items. We are excited to continue to learn and grow this tool!"
Eric Bullington, VMInnovations
See how Promoted Listings drove $30:1 ROI for VMinnovations.
Read full story
"What I love the most about promoted listings is that you don't have to pay for it unless it sells, so you're not paying for marketing up front. The return on investment that I'm seeing with promoted listings is amazing!"
Theresa Cox, Clubred97
See how Promoted Listings drove $13:1 ROI for Clubred97. Watch video
TekReplay is a top rated eBay seller that specializes in quality refurbished Macs, iPhones, and iPads at competitive prices. Their goal was to increase sales and exposure for their Apple products on eBay. Promoted listings helped them triple their overall sales.
Dean Aaron Schultz, TekReplay
See how Promoted Listings increased items sold by 179% for TekReplay.
See full story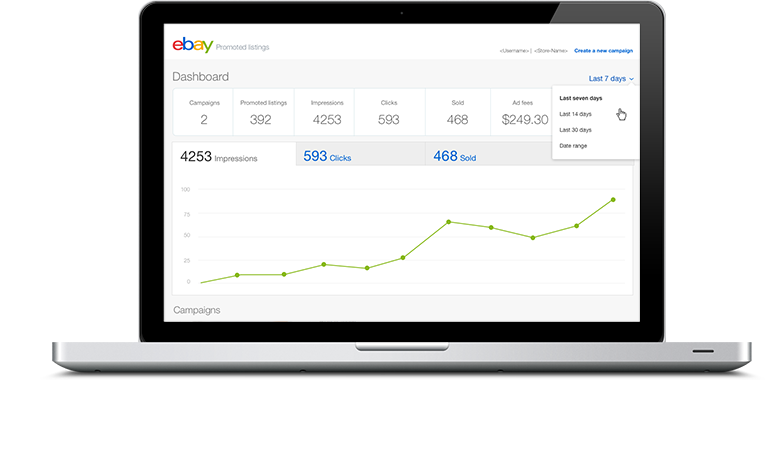 Understanding Dashboard Metrics
Your promoted listings dashboard contains detailed reports on how your ads are performing. Specific metrics include:
Impressions: The number of times your ads appeared
Clicks: The number of times potential buyers clicked your ads
Sold: The number of items sold through promoted listings ads
Ad fees: The fee based on the ad rate set for your items at the time the buyer sees the ad
Sales: Number of items purchased within 30 days of a click on your ad
Set a competitive ad rate
Your ad rate is an important factor that influences the chances of your ad appearing. See current ad rate averages to help you determine the rate you want to set. If you're an Anchor Store subscriber, be sure to take advantage of the $25 promoted listings credit per quarter.
Make the Most of Your Promoted Listings
Getting started with promoted listings
Discover tips, strategies, and best practices to take your marketing to the next level.
A seller's guide to online advertising options
Now more than ever, businesses are harnessing the power of online advertising. In this guide, you'll learn some of the key considerations of online advertising and discover the how to advertise your listings on eBay.
Optimize your promoted listings campaigns
An insider's guide to creating effective promoted listings campaigns
Helpful Links
Weekly ad rate trends: category trends based on the average ad rates set by sellers using promoted listings