Returns on eBay
Who doesn't love a generous return policy? Offer returns whenever you can to attract more buyers and encourage repeat business.
Seller Center
Returns on eBay
Lift Sales With Free Returns†
The better your returns policy is, the more attractive you'll be to buyers. The chart below shows the conversion lift you can expect by moving your listings to free returns.
If you currently offer:

And you move to:

Your conversion lift* could be:

No returns

30-day free returns

17%

60-day free returns

34%

14-day returns (buyer pays return shipping)

30-day free returns

11%

60-day free returns

27%

30-day returns (buyer pays return shipping)

30-day free returns

4%

60-day free returns

18%
*Conversion lift seen based on Q4 2016 data. Individual results may vary. eBay does not guarantee that each seller will experience the same lift.
†Free returns: seller pays return shipping no matter the reason for return, with no restocking fee.
A Day in the Life of a Return
See how the returns process works—and where to save time and money by customizing your preferences.
Deliver Great Customer Service After the Sale
A generous returns policy and a quick, simple return process are must-haves for online shoppers.
eBay gives you the flexibility to customize how you handle returns with options to automate the process or manually approve specific requests. With returns on eBay, you can:
Choose to approve returns automatically or manually
Offer automatic refunds and tell the buyer to keep an item
Choose your preferred return-shipping label
Route returns to specific addresses
Offer replacements and exchanges
Include RMAs and structured restocking fees
Overview
Simplify Customer Service after the Sale
With eBay returns, you can customize the way you handle returns, refunds, replacements, and exchanges. This makes returns easier and less time consuming for both you and your buyers.
Click the tabs above to learn more about customizing and optimizing your returns.
Customize Your Preferences
You Choose How You Handle Returns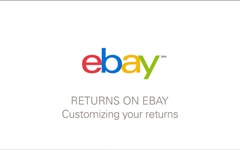 Customizing your return preferences lets you choose when you want to expedite different types of return requests by instructing eBay to process them automatically. Simply create basic or advanced rules within your return preferences in My eBay.
For example, if you always accept returns and offer refunds on clothing items that don't fit, you can now choose to approve those specific requests and send the buyer a return label by creating a basic rule.
If you need deeper customization options (such as to only automate returns in certain categories or lists) you can do that using basic or advanced rules.
Check out our best practices for suggestions on customizing and automating how you handle return requests.
Send a Return Shipping Label
Send a Return Shipping Label to Your Buyer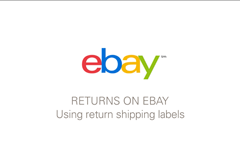 After accepting a return, you'll need to send a return shipping label to your buyer and ensure tracking is available as soon as possible. If you're paying for return shipping, select the eBay labels option to instantly deliver a label to your buyer. You'll also benefit from discounted shipping rates and automatic tracking. Or, if you have better rates through a different shipping carrier, upload a label from your carrier of choice.
Tip: Whichever method you choose, always include tracking on return shipping to help protect you and your buyer in case there's an issue with delivery.
Offer Replacements and Exchanges
Offer a New Item Instead of a Refund
Offering replacements and exchanges is a great way to provide a positive buying experience when there's an issue with the original item, or if your buyer simply wants a different item. You can even allow the buyer to keep the original item in cases where you don't want it back.
Tip: A replacement is an item that's identical to the original. An exchange is an item that is different than the original. Be sure to have plenty of stock available when offering either of these options.
Best Practices
Offering a clear, generous return policy helps you attract more buyers
It's no secret that shoppers are more likely to buy an item when they're confident they can return it if needed. That's why offering a generous return policy makes good business sense. To make managing returns as efficient as possible, be proactive about the way you list your item—and respond to buyer questions quickly.
Provide great customer service by doing the following:
Set a competitive return policy by researching what other sellers are offering for similar items
Be as detailed as possible when describing your item and its condition. Use high quality photos to minimize the need for a return.
Clearly state who pays for return shipping—you or your buyer
Accept returns no matter what the reason, so buyers know you stand behind your listings
Expedite return shipping and handling by customizing and automating some or all return requests
Consider offering free returns to boost sales and buyer confidence
Offer an extra–generous return window—30 days or longer is most attractive to buyers, and required for Top Rated seller status
Offer 60–day returns during the holiday season, letting shoppers know they can buy with confidence throughout November and December
Wait until items are returned to you, and check them carefully before issuing a refund
Issue refunds quickly—preferably within 2 days of receiving a returned item
Ask eBay to step in and help if you can't resolve an issue with your buyer
Limit restocking fees, as they can make shoppers less likely to buy
Keep a valid return address on file, and remember that you can manage multiple return addresses through your return preferences
Tools and Resources
eBay Labels
Save time and money with USPS and FedEx postage.
Carrier Options
Ship the way you want and save, with a variety of delivery options.
Shipping Calculator
Estimating your shipping costs just got easier.