Structured Data
Be seen. Use the right product information in your listings.
Latest Updates
News alert: eBay will not enforce the watermarks policy in March 2018, as originally announced. However, we still encourage you to remove watermarks from listings in order to enhance your reach and velocity on eBay. Read more.
Expanded requirement for product identifiers: Product identifiers for New and Manufacturer Refurbished items, and now the Seller Refurbished condition, are required in certain categories effective October 19, 2017.
Matching new listings to the eBay Catalog: Beginning in Spring 2018, when you create new listings or manage those that are already active on the site, your items will automatically be matched to products like yours in the eBay catalog. We will use the product identifiers you provide in your listings to find product matches for the item you are selling.
What is Structured Data and Why is it Important?
Structured data is identifying information about products. Common examples of structured data are brand name and Universal Purchase Code (UPC), though there are many more.
It's important that your listings contain accurate structured data, because that information is used by eBay and search engines to connect buyers to the products they're looking for and to give them the information they need to make their purchase.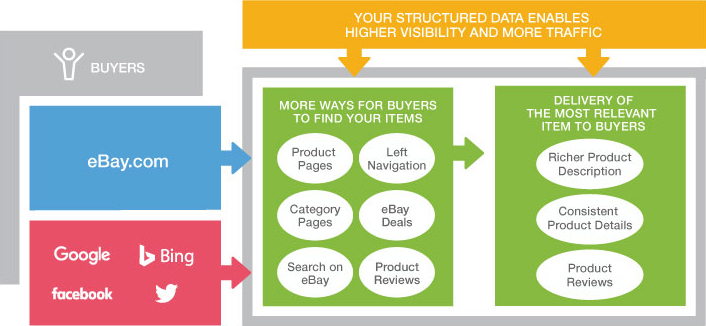 "However a buyer shops on eBay-by model number or UPC or brand-we show up."
-Seller Joel S.
eBay Product Catalog
When you list certain items for sale, you can use eBay's existing product details and a stock photo from our product catalog. This helps speed up the process by automatically filling in the listing form with relevant information--like required product identifiers. As you tell us what you want to sell, we'll suggest categories and similar items that you can use to create your listing.
When you use the product catalog, it's important to select the right item so you don't mislead buyers. If the catalog doesn't have an exact match, don't use it. Instead, you can ask us to add a product to the catalog. Similarly, if you find that an items catalog description isn't quite up to date, let us know. These catalog requests can be forwarded to us here. Learn more about listing your item with product details from our catalog.
"The time we put into this is a 100% worthwhile investment. We have no doubt that it's boosted our sales."
-Seller Mary W.