The advantages of eBay Labels
Choices
With eBay Labels you're not locked into one shipping option. Compare UPS®, FedEx® and USPS® and our own eBay delivery services to find the perfect balance of price and convenience for your business needs. Plus, all carriers offer added peace of mind with shipping protection or liability coverage for loss or damage due to mishandling during shipment.
Savings
Get access to our pre-negotiated rates, plus, enjoy free shipping supplies from each of our shipping carrier partners.
Convenience
Streamline the way you work with free USPS package pick up at your door, thousands of FedEx and UPS drop off locations, bulk label printing up to 100 at a time, and free automatic tracking. It is also quick and simple to print a scan form for your bulk shipments to make drop-offs at the Post Office or schedule pick-ups at your doorstep.
Use eBay Labels.
It's easy.
After you sell an item, go to the Sold section in My eBay or the Seller Hub, find the item, and click "Print Shipping Label"
Enter the shipment's weight and dimensions
Select a carrier and shipping method
Click "Purchase and print label"
Place the label on your package and ship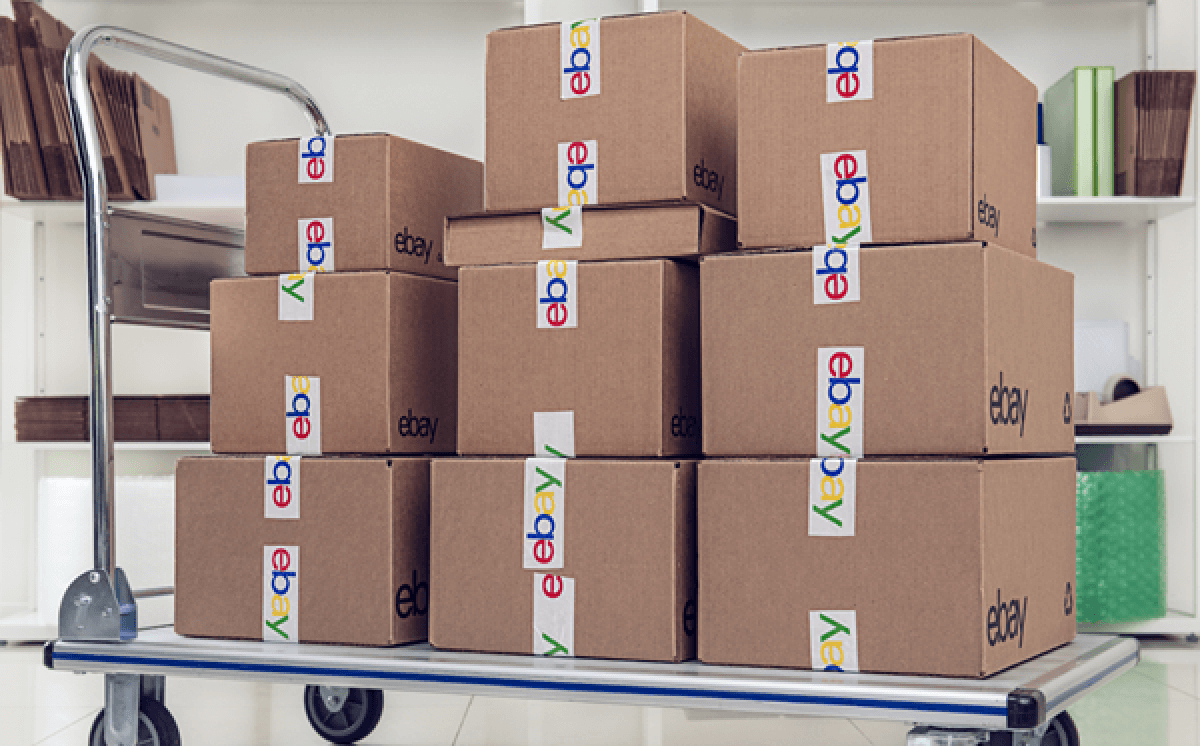 Know your shipping costs
Use our powerful shipping cost calculator to figure out your best shipping options and set your prices to maximize profits. Get started now.
FAQs
Can I print labels for FedEx, USPS, and UPS using eBay Labels?

You can print labels for FedEx and USPS right on eBay. If you use UPS, join the UPS Saving Program for eBay Sellers.

What shipping services are available with eBay Labels?

The following FedEx services are available:

Domestic services: FedEx Ground®, FedEx Express®, FedEx SmartPost®
International services: FedEx® International Priority and FedEx® International Economy

The following USPS options are available:

Domestic services to street or PO Box addresses: Priority Mail®, Express Mail®, First Class Package Service®, Media Mail®, and Parcel Select®
International services: Priority Mail Express International® and Priority Mail International®, First-Class Package International Service™ (FCPIS), and First Class Mail International®

Can I print labels in bulk on eBay?

Yes. To choose your printer and customize how your shipping labels print, click 'Label preferences' from your My eBay Selling page.

My label didn't print properly. Can I reprint it without paying?
I printed a label, but I am not going to use it. Can I void the label and get a refund?

Yes. You have up to 5 days from the time you print a USPS label to void it and get a refund. The cost of the label is credited to your PayPal account within about 21 days. To void a label:

Go to My eBay and click Shipping Labels under 'Sell'.
In the Actions column click 'Void label'.
Follow the instructions on the 'Void your shipping label' page.

For FedEx labels printed on eBay, you are only charged for the labels you use.

With UPS, you are only charged for the labels you use, but must void a label if you don't use it to avoid being charged.

Can I print shipping labels for buyers outside the U.S.?

Yes. U.S. sellers can print international shipping labels using eBay Labels. Customs forms are pre-filled with key, up-to-date information.

You can also choose to use the Global Shipping Program.