How to Find Best Prices
Discover 7 tips for finding the best prices on eBay!
1
Check Deals
Start your price hunt by checking out Deals at the top of the ebay.com home page.
Deals here are updated frequently, so you can always find the freshest offers. Check specific categories or use the search bar to find exactly what you're looking for.
Use Search within the section to find even more items: not all discounted items are presented on the first screen.
2
Use the Sale Items Filter
In Advanced Search (next to the Search button), specify the item you're looking for and select Sale items.
The search results will show the full range of items with discounts.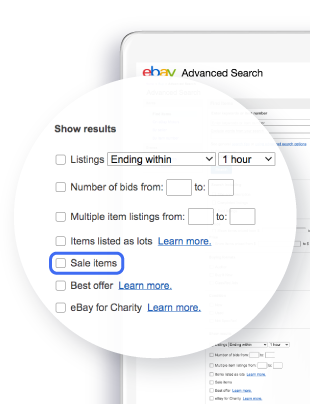 3
Add Items to Your Watchlist
Use the Watchlist feature regularly and you'll get a notification when the price drops.
In addition, we'll notify you if the item you're watching is about to be sold out.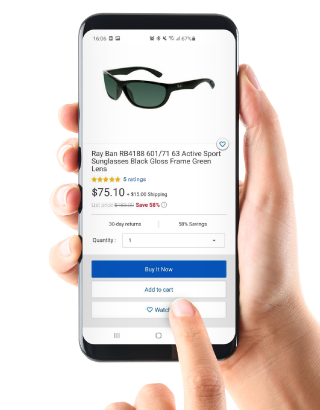 Discover Top Watched Items
These items are going fast!
4
Use the Best Offer Feature
You can offer your price to the seller if the listing has the Make Offer button.
To find all listings with this option, again go to Advanced Search (next to the Search button) and select Best Offer.
5
Bargain with a Seller
You can suggest your price to a seller even if the item is listed in the Fixed Price format. To get in touch, click Contact seller (located close to the seller's name).
When you want to buy several items and would like a volume discount, you can always ask for a discount directly from the seller.
Discover Top Trusted Sellers
Shop from sellers with high rating
Start your search with Free International Shipping by selecting the filter in Advanced Search or under Delivery Options in the left-hand navigation.
If sellers don't offer free shipping on the item you need, sort the search results by Price + Shipping: lowest first to find the best offer.
Discover Items with Free Shipping
Get Free Shipping on loads of great items
7
Use the eBay App to Find the Best Price, Online or Off
You can compare prices on items anywhere you go
In the eBay app, turn on the camera function to snap a photo of an item you see on a friend, in a magazine, or in a window on your rush to work. The app will match the photo with eBay listings so you can discover the best price.
You can also scan the barcode from a price tag or upload a saved photo to shop and compare. Download the app now!