The safe and easy way to sell globally
With the Global Shipping Program

Sell to 64 countries – and counting

Easy, 1-step shipping

Built-in seller protections
Sell worldwide with the ease of domestic shipping
Sellers have increased their sales by up to 15%* with the Global Shipping Program
Make your eligible listings available to millions of buyers around the world and reach new growing markets. All international shipping and import charges are calculated automatically and paid for by your buyer upon checkout.
Easy,1-step shipping
When an item sells, just ship it to the US shipping center in Kentucky. The Program takes it from there. Customs forms and import charges are all handled for you. From the shipping center, the item is sent to your buyer quickly, complete with end-to-end tracking.

Seller success stories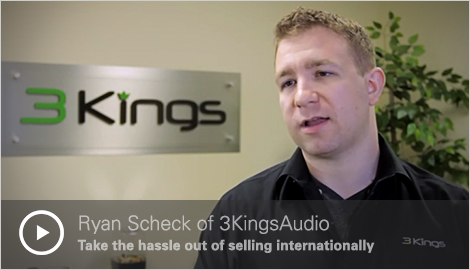 Petco
eBay seller since 2013
"The Global Shipping Program increases a brand's exposure in countries beyond the U.S, and with no additional effort! It's a win-win for your business and eBay."
Buzz Bookstore
eBay seller since 2005
"Can I just say how pleased I am with the program? I've been using it for about 6 months now and I've definitely seen a financial benefit."
Cardboard Legends
eBay seller since 1998
"This is one of the best things eBay has implemented…our international sales are up because of it."
ecomElectronics
eBay seller since 2006
"Within 24 hours we received more than 130 orders from international buyers!"
Sell confidently with built-in protections
By following best practices for shipping and handling, you'll be eligible for 5 stars for both shipping and handling charges and shipping time--and your feedback is protected. Plus, you're protected if the item is lost or damaged during international transit.
Behind the scenes at the US shipping center
Watch how the Program can process over 15 million packages a year
Get more details
Who can enroll in the Global Shipping Program?

The Program is available to sellers who have a "standard" or above US seller rating with items listed and located in the US. See program details for more information.

Who should use the Global Shipping Program?

If you're currently selling internationally, your items have an average selling price of $50 or more, and you're shipping parcels, the Program is an ideal solution. It's also the perfect way to get started selling globally regardless of the average selling price of your items.

How much does the Global Shipping Program cost?

When the Program is available to you, a banner will appear on your All Selling or in your eBay Seller Hub.

How do I enroll and apply the Program to my listings?

When the Program is available to you, a banner will appear on your All Selling, Selling Manager, or Selling Manager Pro page in My eBay inviting you to opt in. Go to My eBay > Account > Site preferences > Selling preferences > Shipping preferences. See program details for info.

Is the Program available on my mobile app?

Buyers can purchase Global Shipping Program items from mobile phones when they use the latest version of the eBay mobile buying application. At this time, the Global Shipping Program isn't available through the mobile selling application.

What are import charges?

Import charges are fees for importing goods from one country to another. They typically include sales, goods and services and value added taxes, duties, tariffs, excise taxes, and other amounts. To see how import charges are assessed, visit the Charges and Discounts.
Extra shipping tips and resources
Read answers to frequently asked questions about eBay labels.
Get special eBay discounts from USPS, UPS, and FedEx.
Connect with other eBay sellers and get the tools, tips, and inspiration to grow your business.
Boost your sales and ratings, and lower your costs.
From My eBay you can pay for discounted postage, print shipping labels, and upload tracking.
Print up to 50 USPS shipping labels at once.
Estimate shipping costs with ease.
Get FREE eBay and USPS co-branded Flat Rate boxes sent right to your home.
Boost your shipping DSRs and lower your shipping costs with these best practices.
See how offering Fast 'N Free shipping can increase your sales and improve your seller rating.
Offer Fast 'N Free shipping: You'll get an automatic 5-star seller rating on shipping and handling and you could increase sales by 11%†.
The latest eBay mobile app gives you suggestions for which shipping method to use and how much it will cost.
* Approximately 10% of sellers who enrolled in the Global Shipping Program in Nov 2014, who had not previously sold internationally and who enabled more than 60% of their eligible listings with the Global Shipping Program, experienced a 15% increase in sales (or more) 30 days after enrollment as measured against the 30 day period prior to enrollment. Individual results may vary.