How low DSRs are calculated: Frequently asked questions
What time period is used to calculate a seller's DSRs?
Starting in October, for sellers with 400 or more transactions during the most recent 3 calendar months, the evaluation period for rate of low DSRs required for Top-rated seller status will be the most recent 3 complete calendar months.
For all other sellers, the evaluation period for low DSRs (1s and 2s) will be the most recent 12 calendar months.
Starting in April, these same time periods will apply for PowerSeller status and the minimum average DSR.
How often is seller performance evaluated?
Seller status is evaluated around the 20th of each month. So, for example, the calculation on July 20 will include DSRs for all transactions in the months of April, May and June. Note that sellers who fall below the new minimum standard for all sellers would have their status changed immediately after the monthly evaluation, including loss of Top-rated seller status and benefits. Sellers can see how they are trending to meet the requirements on their seller dashboard.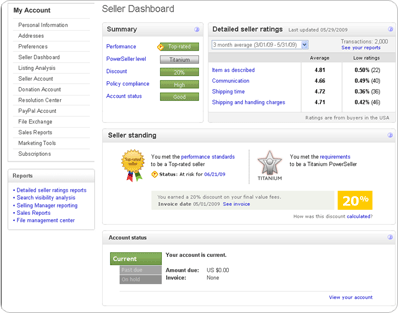 What happens if my buyer leaves DSRs after the month of the transaction? Will those DSRs count?
Yes, your low DSRs (1s or 2s) for a given month are related to all the transactions in that month, regardless of when DSRs are left by the buyer. Rates for each month are continuously updated as buyers leave ratings. For example, DSRs left in July for a transaction in June will be included in your rate for the month of June.
If I am a low-volume seller, can one or two bad transactions result in me losing PowerSeller or Top-rated seller status?
No. To ensure sellers—especially lower volume sellers—are not penalized as a result of one or two transactions, it will take at least 3 instances of 1s or 2s in at least one DSR to lose Top-rated seller status or 4 instances in at least one DSR to lose PowerSeller status or face other consequences as a result of low DSRs.
How is the percent of 1s and 2s for DSRs calculated?
The percent of low DSRs (1s and 2s) is calculated as follows for all four DSRs—Item as described, communication, handling time, and shipping and handling charges.
Number of 1s or 2s received from U.S. buyers
______________________________________
Total number of transactions with U.S. buyers
Note that the total number of transactions includes
all
transactions, not just transaction where DSR scores were received.
See
specific examples
of how low DSRs are calculated.
Will a seller's minimum average DSR be calculated differently under the new system?
Yes. The new minimum average DSR criteria will take the average DSR scores from U.S. buyers across all four DSRs. If each of the four average DSR scores is equal to or above the minimum average DSR criteria of 4.60, the seller meets this requirement for PowerSeller status.
There are other differences in how the minimum average DSR will be calculated in the new system:
Current method for calculating average DSRs:
Today, the minimum average DSR for PowerSeller status is based on DSR data over a rolling 12 months. This data is updated weekly and only one set of DSRs from the same buyer in a single week are counted.
For discount qualification, the minimum average DSR covers DSRs received over a rolling 30 days and is updated daily and only one set of DSRs from the same buyer over the 30 days is counted.
Both calculations include DSRs from U.S. and international buyers.
The requirement for PowerSellers is 4.5 and rounded to one-tenth (for example, 4.49 qualifies for 4.5 criteria).
New method starting April 2010:
For high-volume sellers (400 transactions or more over the last 3 months), the evaluation period will be the most recent three calendar months. For all other sellers, the period will be the most recent 12 calendar months. See the requirements and rewards chart for volume criteria.
Only U.S. buyer DSRs will be included in the calculation.
All transactions from repeat buyers will count. (To accurately measure your overall performance, we will only count 1s and 2s if they come from two or more buyers within any given evaluation period. If you have more than 400 transactions, three or more buyers must leave low detailed seller ratings before they are counted.)
Requirement for PowerSeller and Top-rated seller status will be 4.60, rounded to one-hundredth (for example, 4.59 does not qualify for 4.60 criteria).
Discounts will rely on seller status as a PowerSeller or a Top-rated seller for the invoice period, with no additional evaluation based on DSRs.
Minimum Average DSR Calculation
Current
New
For PowerSeller Status
Criteria
4.5
4.60
Buyer Basis
Global
U.S. only
Repeat Buyers
One per buyer per week
All
Rounding
To the tenth
To the hundredth
Time Period
Trailing 12 months
High volume:* 3 calendar months
All Other: 12 calendar months
For PowerSeller Discounts
Criteria
4.6 (5%), 4.8 (15%), 4.9 (20%)
4.60 (20% Top-rated status;
5% all other PowerSellers)
Buyer Basis
Global
U.S. only
Repeat Buyers
No
Yes
Rounding
To the tenth
To the hundredth
Time Period
Trailing 30-days
High volume: 3 calendar months
All Other: 12 calendar months
*High volume=400 or more transactions in the past three months