Shipping Calculator
Provide Shipping Costs with the Shipping Calculator
The free Shipping Calculator is great for buyers. When you list your item using the Sell Your Item form or TurboLister, it can adjust your listing, so buyers automatically see the shipping cost for their specific location. Just describe your package (size, weight) and the U.S. Postal Service® shipping services you want to use and the Shipping Calculator will present the right shipping cost to each buyer. That's all there is to it.
Benefits of Using the Shipping Calculator
Make buyers more comfortable.
Buyers are more comfortable bidding on your item when they know exactly how much shipping will cost.
No more guessing.
The shipping cost presented will be based on the specific user's ZIP Code™. This eliminates overcharging buyers or having to pay extra costs out of your own pocket.
Bundle your charges into one cost.
You can include a handling charge and/or insurance automatically in the total shipping cost without having to manually add it to the total or display it separately.
Reduce buyer questions.
By having shipping costs provided for every location up front, you get fewer emails to respond to from potential buyers, saving you time.
Get paid faster; ship faster.
The shipping cost is pre-filled during the invoicing and checkout process, so buyers can conveniently pay the total amount right away. It's also pre-filled when you print U.S. Postal Service shipping labels.
Provide Shipping Costs with the Shipping Calculator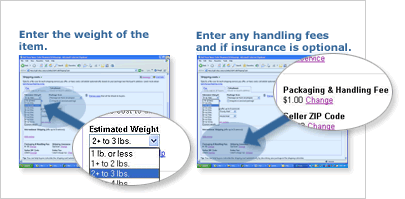 When you list your item using the Sell Your Item form or Turbo Lister, go to the Shipping Costs section and choose the option "I'll let the Shipping Calculator show the correct costs to my buyers."
Enter the weight of the item, and select the type of package you'll be using.
Enter any handling fee you may have (buyers will see one total cost), and indicate whether insurance is optional. If required, enter the insurance cost.