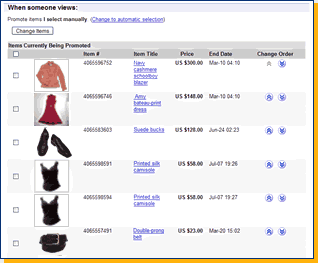 Controlling your Cross-Promotions
Your default cross-promotion relationships will set up cross-promotions automatically whenever you list a new item. This easy and effective method should work for most sellers in most situations. However, you may also choose specific items to promote on a particular listing.

You can preview the items that will appear to your buyers:

By clicking the "Change cross-promotions" link on the listing page (you must be signed in as the seller)
By clicking the cross-promotion status icon in the Items I'm Selling view of My eBay

Clicking the "Change cross-promotions" link on the listing page will take you to a page where you can see the exact items that are currently appearing to your buyers when they view your item and when they bid on or win your item.

There are two ways to change the items that appear:

Choose a different category to automatically select items from
Swap the items out with other specific items of your choice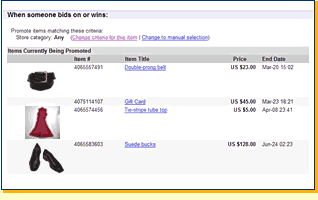 Selecting Items Automatically
Items are selected automatically based on your default cross-promotion rules. To change the cross-promotion criteria just for this item, click "Change Criteria."

Selecting Items Manually
To select particular items to appear, first switch the Rule Type to "manual" by clicking the link to "Change to manual selection". The page will refresh and checkboxes will appear beside each cross-promoted item. Click the checkbox for each item you want to change, and click the Change Items button. You'll get a page where you can search for and select different items from your entire set of active listings.