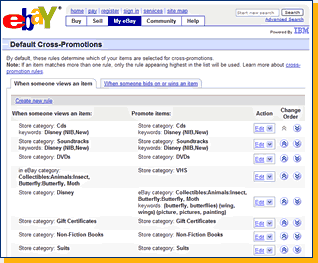 When it comes to your business and your buyers, no one knows them better than you. That's why eBay allows you to create the cross-promotion rules that make sense for your eBay Store. Every seller has cross-promotions, but you should choose the right cross-promotion rules for your business.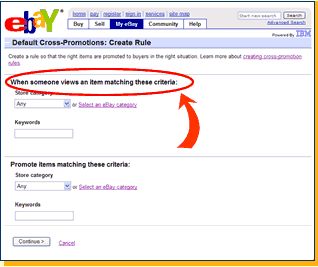 Step 1: Set up the category relationships that make the most sense to you
When a buyer views, bids on, or wins an item from you, your items in the same or similar categories will be promoted. You can change the default rules to create more targeted promotions. You might decide to promote complementary items, like sweaters that match a pair of pants or accessories for a digital camera.

Use keywords to make your rules even more specific - you can cross-promote items with keyword "blue" or "large" to show the most relevant items to your buyers.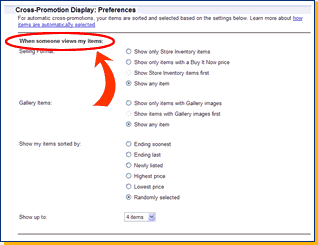 Step 2: Determine which items from your categories would be best to promote
Now that you've set up your cross-promotion rules, you may be wondering: Which four items that match the criteria will be used in a cross-promotion?

This is determined by your cross-promotion preferences. Set your preferences by going to the Cross-Promotions table in the Selling Tab of My eBay and clicking the "Edit cross-promotion preferences" link. These settings determine which items from a Store category will be shown first.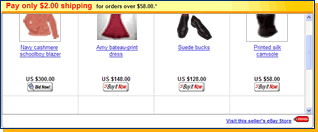 Step 3: Customize the appearance of your cross-promotions
You may choose to customize the way your cross-promotions appear on your listings pages. As a Store seller, you can choose to display up to 12 cross-promoted items in your listing. You can make this selection on the cross-promotion preferences page.

You can also choose to use your Store theme for the colors of the cross-promotions display. Simply go to Manage Your Store, and click on the option to "Customize Cross-Promotion Display."