I want to turn knowledge into power.
Let's build your business with tools that track your sales.
Manage your sales in My eBay

Selling Manager (FREE)
Easily track and manage sales right in My eBay with Selling Manager. Monitor your active listings, create email templates, leave feedback, print invoices and shipping labels, and automatically relist items in bulk. When used with free Turbo Lister, it creates a complete selling solution.
Subscribe now

Selling Manager Pro
Automate, improve, and streamline high-volume sales. Manage listings, sales inventory, feedback, and customer emails in bulk. Plus,
use the Listing Designer feature
for free! Selling Manager Pro
(reg. $15.00/month) is free with
Premium and Anchor Stores.
Subscribe now

Customize Your Selling Tools
Once you're subscribed to Selling Manager or Selling Manager Pro, click the "Applications" tab in
My eBay to browse the Selling applications directory. A wide range of applications are available to help you sell more efficiently and stay competitive. You'll find research and reporting tools, finance and accounting applications, and more.
Track and analyze your sales
Sales Reports Plus offers a free and comprehensive view of your sales numbers.
Your Sales
Summary
Your Sales by Category
(and Format)
Your Sales
by Format
Your Fees
Summary

Look at your sales over a period of time.

Total sales
Ended listings and items
Successful items (number and percentage)
Average sale price per item

See sales trends by lowest level category.

Total sales
Ended items
Successful items (number and percentage)
Average sale price per item

Compare your fixed price and auction-style listings.

Percentage of sales in fixed price and auction-style over a period of time
Key performance metrics by format

Get a summary of your fees during a specific time period.

eBay fees
Insertion fees
Feature fees
Final value fees
Subscription fees
PayPal fees
You can also download reports and sort data for a better understanding of the selling strategies that work for you. Subscribe now
Tools offered with your
eBay Stores subscription
Stores Traffic Reports
Optimize your listing titles and Store design with Traffic Reports. See which keywords buyers are using to discover your listings, and find out which pages they view in your Store. Premium and Anchor Store subscribers also get advanced reporting features.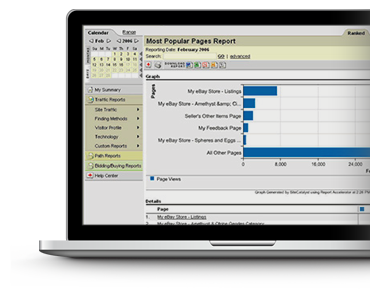 Comparison of Traffic Reports by eBay Stores Subscription Level
| | Basic | Premium | Anchor |
| --- | --- | --- | --- |
| Number of daily page views and unique visitors coming to your Store | | | |
| Number of page views and visitors for each page in your Store, including all of your listings | | | |
| Data on how visitors are getting to your Store (e.g., which search engines and keywords are referring visitors) | | | |
| Search terms visitors are using within your Store | | | |
| Path analysis (e.g., the paths visitors take through your Store) | | | |
| Bid/BIN tracking to help you optimize your Store for bidders and buyers | | | |
| How often your visitors are returning | | | |
| How visitors are seeing your pages including browser type, window size, and language setting | | | |
Additional eBay Tools

Seller Dashboard
A personalized Seller Dashboard is available to all sellers with 10 or more Detailed Seller Ratings (DSRs) within the last 12 months. Use it to track your DSRs, see your seller performance standing, and manage your business.
More about Seller Dashboard

File Exchange
With File Exchange, you can download your active listings and sales history reports in a flat file format, which can be imported into your own systems.
More about File Exchange
Want to know more?
Seller Center
Information to make the most of every listing.
Free eBay Seller Webinars
Register for a free webinar today—your one-stop shop for interacting with eBay staff on eBay policies, updates, and selling tips.