Skype for eBay sellers

Here are some ways Skype can help build your business: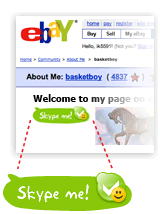 Include a Skype Button in your profile and email signature to show your buyers when they can call or send you a message.


Call regular phone numbers anywhere in the world from Skype, with SkypeOut - it's not free but it is pretty cheap actually. You can also forward the calls you receive on Skype to another Skype name or phone. It won't cost others any extra to call, and you simply pay the standard SkypeOut rate to call the number that you forward to.


Phone numbers. Get a SkypeIn number so your buyers can call a regular telephone number to reach you on Skype, wherever you are. Let's say you have a Chicago-based SkypeIn number, but you're temporarily away in Paris… Your Chicago area buyers - or anyone else - can just dial your SkypeIn number to reach you. And they'll only pay whatever their phone company charges them for making a phone call to Chicago. You can have up to ten SkypeIn numbers associated with your Skype Name. SkypeIn comes with free voicemail so you never miss a call.


You can conference call with up to 5 people at the same time, including those you call with SkypeOut.


Skype Groups makes it easy to allocate Skype Credit, SkypeIn numbers and Skype Voicemail to all members of your business. And it's easy to print nice documents that will keep the people who care about the numbers happy, too.


The Skype Email Toolbar brings all your Skype and MS Outlook contacts together in one handy place. That means you'll be able to call your Skype contacts who email you and make SkypeOut calls to your Outlook contacts who aren't on Skype yet.