| | | |
| --- | --- | --- |
| | | |
| | Related Links | |
List
Track and Manage
Listing Analytics
All-in-one

Track listing performance, optimize your business and sell more with the Listing Analytics application


Get insight into the visibility, clicks and sales your listings are generating. Learn about your best and worst performers and revise listings right from the app to maximize sales.



Features




Search for a listing by keyword to instantly see its rank in search results. Robust, easy-to-use filtering and sorting capabilities will allow you to filter results by format, sort by column, and drill down into the details of each listing to better understand your best and worst performing listings.


View impressions, clicks and sales metrics to better understand the behavior of your buyers. Find answers to the questions: Are buyers finding your listings in search results? If so, are they clicking to view your listings? Once they click, are they buying?


See how your listings stack up for impressions, clicks and sales against the top five results for similar Fixed Price listings.


Get rolling 30 day trending data for impressions, clicks and sales for both active and completed listings.


Get tips and best practices to help optimize your listings.




What does your sales funnel look like?



Impressions: Get your listings seen—the number of impressions is the number of times your listing was viewed. The impression count is the widest part of the sales funnel. An impression is counted any time a buyer sees a search results page that includes your listing.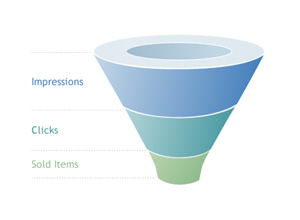 Example: If your listing is on page 1 for the query "ipod", your item will receive an impression each time a buyer does a search for the keyword "ipod".

Clicks: Attract buyers to click on your listing—this is the middle part of the sales funnel. A click is counted any time a buyer clicks on a listing from a search results page.

Note: Multiple clicks from the same user are counted as 1 click. Only clicks from search result pages are counted. Clicks from other sources (marketing emails, my eBay, etc.) are not included in this count, so it may not match the view item counter on a listing.

Sold Items: After clicking on your listing, a buyer must be enticed to purchase your item. This is the number of items sold for a given listing and the narrowest part of the sales funnel.

Note: A multi-quantity or multi-variation listing can have multiple sales on a single listing. An Auction-style or single quantity Fixed Price listing may also have multiple sales if it has been successfully sold and relisted with new inventory.

Follow general guidelines and best practices for listing Fixed Price and Auction-style on eBay. This application will help you optimize against those best practices and provide tips for each part of the funnel.

You can access the application directly from the Applications tab in My eBay or from your Seller Dashboard.



Helpful Links



More details
Best Practices



System Requirements

Other recommended seller tools:



Seller Dashboard & Performance Reports

See where you stand on vital seller stats and seller performance criteria
Available to all sellers with 10 or more detailed seller ratings (DSRs) within the last 12 months
Manage your business to get the most out of eBay programs and incentives

Terapeak - eBay Market Research
After you understand listing performance through Listing Analytics, optimize listings even further with Marketplace Research

View average selling prices
Find new high performing keywords and categories for your listings
Track products to gauge market demand and seasonality
Easily monitor your competition and find out how they are listing