Enter payment and shipping terms when you list your items so buyers can pay you more easily.
Getting paid for items has never been easier! eBay's payment system helps you receive your money faster, and reduces the number of emails you'll need to send.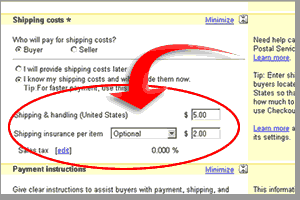 Specifying Shipping Costs makes your payment terms clearer to buyers, and it helps them pay after the auction. The information you enter will appear in the Payment Details section on your Listing.
If you enter this information, eBay will automatically calculate the total for your buyer when they pay.
1. Shipping & Handling - If you have a fixed charge for shipping, please provide it here. If you are listing a multiple-item (Dutch) listing, provide shipping costs for additional items in case a buyer buys more than one item from you. Please be sure to specify in the Payment Instructions field the method(s) you will use to ship the item to the buyer.
If you do not know the shipping amount or have more complicated shipping policies, you can use the Payment Instructions field to explain your shipping policies to buyers.
2. Insurance - Choose if insurance is required, optional, or not offered. If it is required or optional, make sure you specify the amount to be charged for each item. If you do not want to offer insurance, make sure you select "Not Offered."
3. Sales Tax - You can select a sales tax rate to charge in a state. Also, select whether you want to include Shipping & Handling in tax computation. The sales tax will only be applied for buyers who have a shipping address in the state you specify.
Please note: This calculation is a service only and in no way obligates eBay, PayPal or any of its subsidiaries to remit such tax on your behalf. You are solely responsible for the calculation and remittance of any taxes owed to any governmental entity based on your eBay activities.
If you find that the Shipping Costs you specify are not appropriate for a winning bidder or buyer, you will be able to update the terms when the listing ends by sending an invoice.

Go to the Seller Tutorial.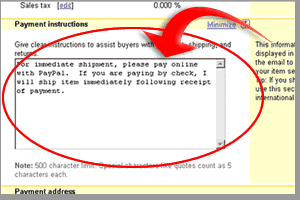 Use this section to specify your payment terms, return policy, discounts, etc. Buyers will see this information while the listing is active, when they pay and in the End of Auction email. This section allows up to 500 characters and supports text only.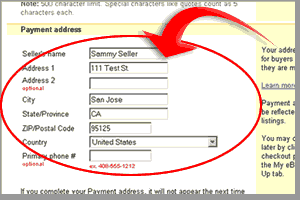 Your payment address will be displayed to buyers during payment if they choose to pay by check or money order. The payment address you enter will be used for all of your items. Select the 'Remember my payment address' option if you don't want to see this on the Sell Your Item form each time you list.