Most stamp collectors begin collecting with modest purchases. We learn to use catalogs to help identify the material we have added to our collections. We arrange our stamps in albums and stock books as we move toward completion of a particular collecting area. Our purchases increase in value as we buy the high value stamps to fill-in those album pages. Many of us are eventually drawn to collecting postal history, which shows the use of stamps on covers, typically by rates, routes and postal markings. In our quest to add that $5.00 Columbian Issue or a 5 cent 1847 Issue on cover, we are now spending hundreds or even thousands of dollars on a particular item.
Are we confident that what we are buying has been correctly identified by catalog number? Shades, perforations and watermark varieties can be a real challenge to even seasoned collectors and dealers. Condition is also a major consideration. Paper is by nature fragile, and over the years, stamps have been mishandled and damaged and later, the subject of repair. Small tears, creases and thins are frequently found in older issues. Natural straight edges on stamps have been reperforated. Stamps with perforations on all four sides have had their perforations clipped on two sides to appear as coils stamps. Imperforate stamps have been perforated to appear as scarcer varieties. Unused stamps without gum or part gum have been regummed to look as if they had original gum, and were in never hinged condition. Faked cancels have been applied to unused stamps to appear as cancelled stamps where the latter have higher catalog value.
Covers also present challenges. Did the stamp or stamps originate on the cover or have some or all been replaced because of condition issues? Are the stamps properly tied to the cover with a legitimate cancel? Are all of the postal markings on the cover genuine? Has the stamp on the cover been repaired? Have the postal markings or the stamp on the cover been affected by repairs to the cover?
Because condition significantly impacts the value of stamps and covers, many have been repaired over the years in an effort to conceal these faults and are currently sold in the philatelic market place by both unwitting or unscrupulous dealers and collectors.
How do you protect yourself in the philatelic marketplace? Fortunately, our hobby benefits from the existence of a number of third-party expertizing services that examine stamps and covers and provide certificates of authenticity. A recognized leader is The Philatelic Foundation, a not-for-profit educational organization established in New York City in 1945. Since its beginnings, the PF's most significant and prominent role in our hobby has been the issuance of certificates of authenticity for stamps and covers.
A certificate helps to eliminate uncertainty by rendering an unbiased third-party opinion on key attributes that impact the fair market value of stamps and covers. The PF's staff of experts determine if your stamp or cover is properly identified and described by examining its critical attributes. A certificate is an expression of expert opinion regarding:
Genuineness – Each stamp is carefully examined to establish its authenticity.
Identification – After determining that a particular stamp is genuine, the expert staff scrutinizes key benchmarks to accurately identify its correct catalog number.
Condition – Each stamp or cover is carefully examined to detect defects or alterations that would tend to decrease its value, including reperforation, and a variety of repairs.
Gum condition – Each mint stamp is carefully inspected for signs of hinge marks, gum disturbance, or regumming. Certificates include a notation reporting these findings.
Authentic Cancellation – The expert staff scrutinizes cancellations to determine authenticity. Covers are examined to establish that the stamp originated on the cover and that all markings are genuine.
In any hobby knowledge is power. Collectors benefit from learning about the stamps and covers they collect. To assist collectors, the PF has digitized its certificates going back to its first in 1945 and has made over 530,000 of them available on-line to the hobby through its acclaimed PF Search Program. This program provides both an image of the stamp or cover and the PF's final opinion and, provides easy access to a variety of information. These records have helped verify the existence of new varieties and aided researchers in compiling census of examples of rare stamps and covers, their quality and condition, as well as the ability to observe those which have been the subject of subsequent repair or alteration.
The PF is the only expertizing body in the United States with the latest hi-tech equipment to assist in the review process. The VSC6000 uses high definition magnification, differing wave lengths of light, and the application of direct light in a variety of modes. This sophisticated forensic device assists the PF's staff in confirming the existence of a variety of faults and repairs in both stamps and covers. In addition, the Bruker XRF (X-Ray) Spectrometer is used to determine the elements in ink used in the printing of stamps. It has proved invaluable in correctly identifying certain stamp issues of similar color but with inks of very different compositions. Other scientific equipment includes stereo and comparison microscopes, paper micrometers, as well as ultraviolet light sources. The latter is used in the detection of fraudulently cleaned used stamps that have been made to appear as unused stamps.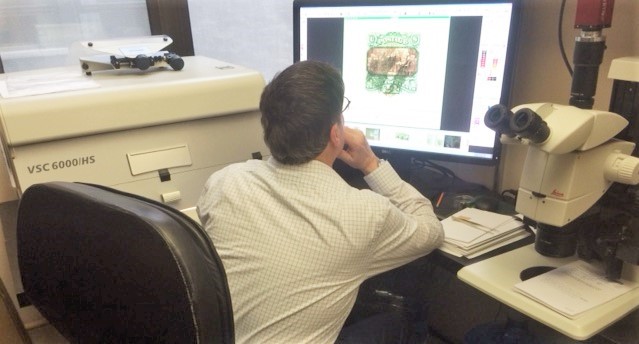 The use of this hi-tech equipment assists in detecting fraulent repairs in stamps. Two examples are shown below.

This 90 Cent 1869 Issue, Scott #122, appeared to be a wonderful example of this classic stamp. But under visual examination, the upper left corner did not look quite right. Using the VSC6000's high magnification, it became apparent the stamp's upper left corner had been repaired and the triangular design in that corner had been drawn in.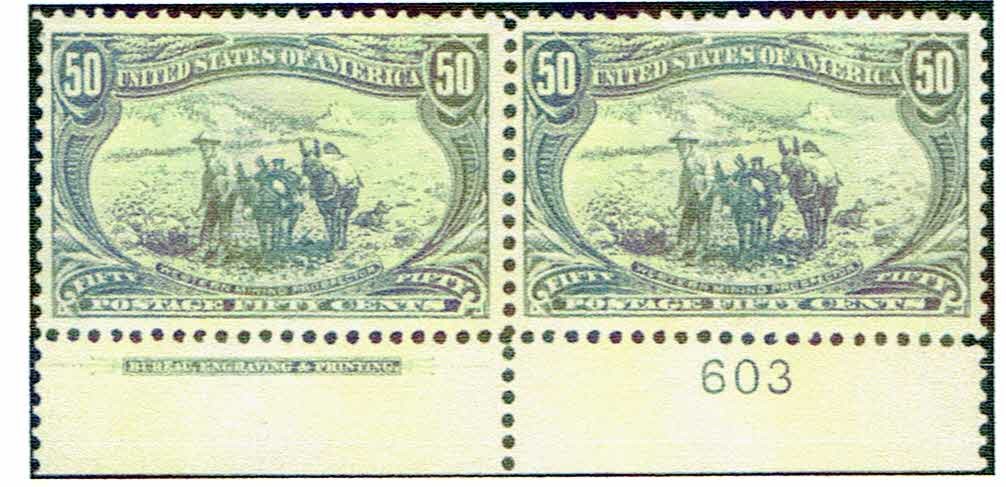 This 50 Cent Trans-Mississippi Imprint Plate Number Pair with full original gum, at first glance, looked most attractive. But the staff of experts noticed what looked to be a suspicious appearing disturbance on the stamp at the right of the pair. Under the VSC6000's high magnification and side-lighting capability, it turned out that its top margin had been repaired as seen in the sharp paper ridge at the top as well as in the paper repair which disturbed the design at its top.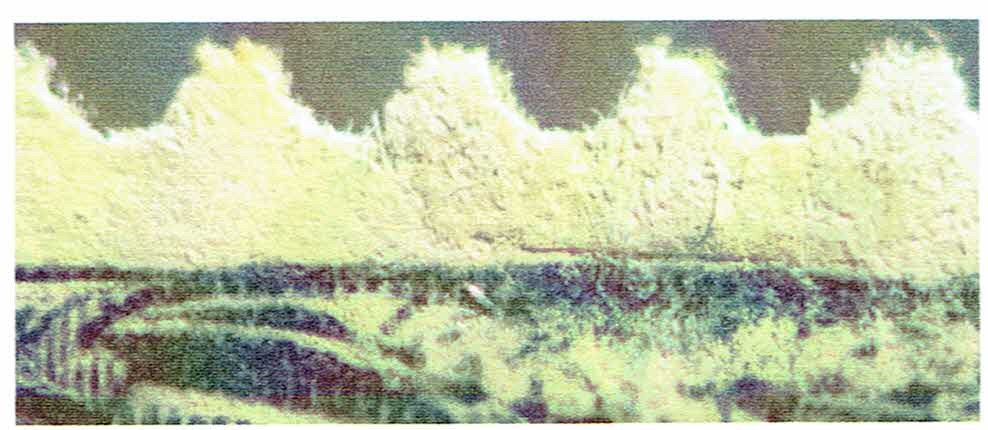 PF Certificates are the recognized "gold standard" in the buying and selling of U.S. stamps and covers. The greatest collections of U.S. stamps and postal history have been bought and sold based on the opinions of PF Certificates.
Shop Stamps Certified by The Philatelic Foundation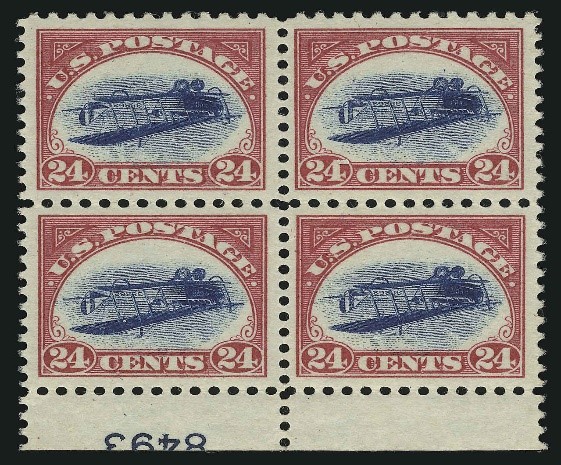 The PF has expertized more copies of the 24 cent Jenny Invert than any other service in the world. In total, the PF has issued Certificates of authenticity for 86 different positions from the original error sheet of 100 stamps, including all six of its remaining blocks. The unique Jenny Invert plate block is one of the most iconic pieces in all of United States philately. The plate block was issued a PF Certificate stating that "it is genuine." Most recently it sold at a record price, a figure reported to be in excess of $5,000,000.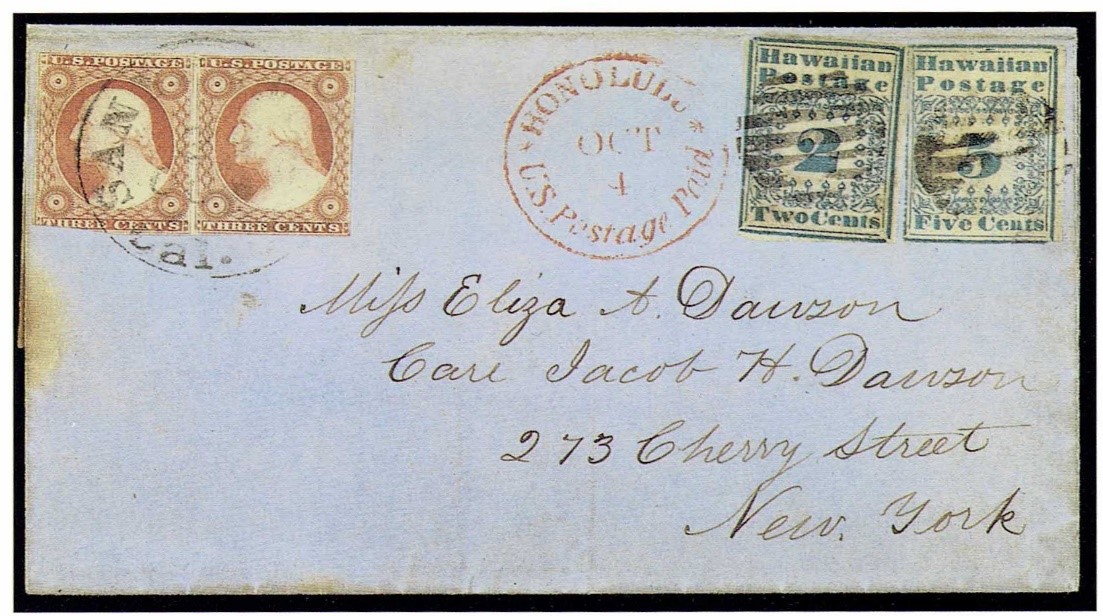 The famous "Dawson Cover," is the only recorded cover with the 2 Cent Hawaiian Missionary stamp. On this cover it is used in combination with a 5 Cent Missionary used together with a pair of 3 Cent U.S. 1851 Issue from Honolulu through San Francisco to New York. The PF Certificate states the stamps are "genuinely used on cover." At auction it sold for a record $2,242,500.
Over the last 20 years, many U.S. collections have been built with the purchase of graded stamps. Because high quality stamps of a particular issue may be very scarce in number, known as "condition rarities," they often sell at many multiples of catalog value. Grading is a cumulative score arrived at by the careful examination of several critical components. The numeric grade is assigned based on centering, soundness, and eye appeal. Uniform standards are applied by the expert staff to assess stamp fairly and objectively as seen in the high quality examples below.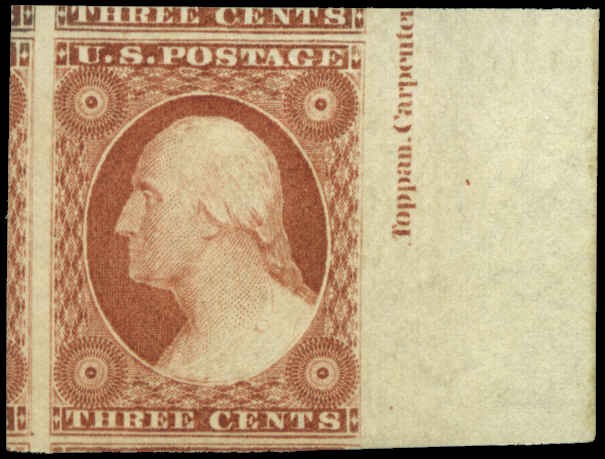 Scott #10, Graded 100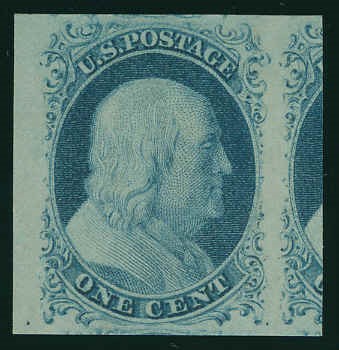 Scott #7, Graded 98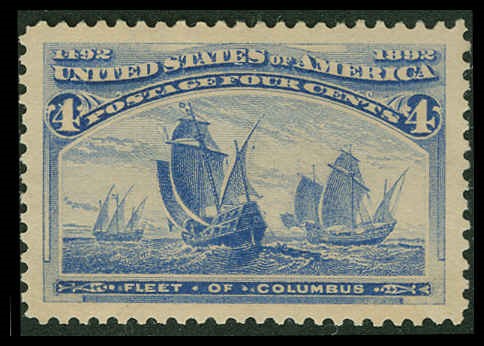 Scott #239, Graded 98
Soundness and centering are the preliminary tests. "Soundness" is an evaluation of the absence or presence of faults such as creases, thins, faded colors, toning spots, stains, tears, and repairs. Faults, which may be natural or man-made, range from very minor gum skips or short perforations to major damage. Stamps with significant faults are not graded, nor are stamps that have been reperforated, repaired or otherwise altered, or stamps with straight edges. Once a stamp is determined to be sound, the expert staff looks at its "centering." Centering is a measurement of the relationship of the stamp design to its four margins. After soundness and centering are assessed, our experts assign or subtract points for eye appeal. Eye appeal is a measure of the stamp's color, freshness and impression, and if used, its cancellation. The points are then calculated, and a final numerical grade is given. Final grades can range from 5 (poor) to 100 (gem). Census figures for PF graded stamps can be found using the PF Search program on our website. The PF does not attempt to establish their market value. Instead, the PF refers collectors to Scott's U.S. Specialized Catalog which includes a listing of stamp values "By Grade," as a reliable third-party source for market price information.
How much does it cost to buy confidence and peace of mind? Because the PF is a non-profit organization, it is able to offer its expertizing services at a reasonable and affordable fee. For regular service, the fee is only 5.5% of the catalog or fair market value of each stamp submitted, with a minimum fee of $27 per item and a maximum of $1,000. If time is of the essence, priority service is available. Upon a request for priority service, our experts will certify your stamps and return them within 20 business days. You pay only 5.5% of catalog value, plus a $10 charge per item, with a minimum fee of $37 per item and a maximum fee of $1,000.
All leading auction houses, as an express condition of sale, permit successful bidders to have their purchases submitted to the PF for certification, subject to return in the event that the stamp or cover is found to be not as described. To promote the sale of your stamps and covers in the on-line market place at the highest price, obtaining a PF Certificate prior to closing the sale will provide potential buyers with the knowledge and confidence that the stamp or cover which they are buying is genuine in all respects. Even more productive in marketing your material for sale at the highest price is to obtain certificates prior to their on-line posting. Your on-line description with the added text "With PF Certificate" will result in achieving the best possible price with the immediate ability to close the sale because buyers will have the confidence is knowing that the stamp or cover is genuine in all respects.