Boost profits, work faster, and save time with automatic relisting in Selling Manager.
Whether you choose to automatically relist them just once or until they sell, your items get maximum exposure to buyers and minimum downtime, and you don't have to monitor manually to make sure unsold items get back up.
Previously only available in Selling Manager Pro, automatic relisting is easy to use. You can apply relisting preferences to a bunch of listings at once, or do it item-by-item right from your Active Listings page in My eBay.
Setup is easy:
1. Go to your active listings in My eBay and click the check boxes of items you want relisted (if they don't sell).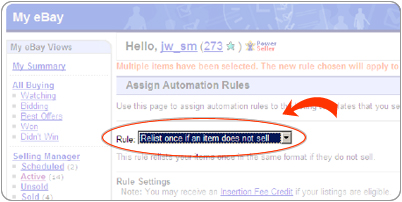 2. Look for the "Assign Automation Rules" dropdown menu above your active listings and choose whether you want to relist them just once or until they sell.
3. Set the relisting specifics for the items and method you chose.