New Business Seller
Your success is our success.
Three reasons to sell on eBay
1
170 million buyers
eBay is where the world shops. Connect with unlimited opportunity.
2
Powerful tools
Our suite of tools help you list faster and make the sale. And they're flexible enough to work for your business.
3
A business partner
We don't compete with our sellers; we help them grow. Your success is our success.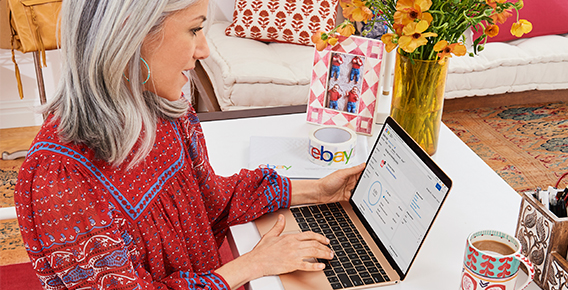 Seller Hub
The one place with everything you need to run your business on eBay. Tap into marketing tools, competitive listing guidance, and more to help grow your business.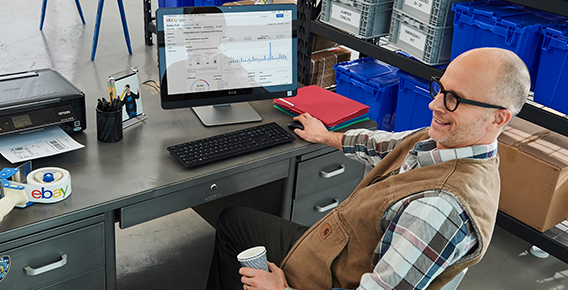 eBay Stores
Why get a Store?
Save big with free listings and lower selling fees, get access to inventory and promotional tools to help grow your business, and much more.
The Perfect Listing
There are four parts to the perfect listing.
Title - Item Specifics - Quality Photos - Price
Examples of Perfect Listing Titles:
Fashion
Lululemon Cashmere Sweater Medium Blue Mens V Neck New Long sleeve
Womens Astros Jersey Fits Small Medium Pink Stripe Polyester Vintage 80s Retro
Electronics
Dell Chromebook CB1C13 11.6in Intel Celeron N2840, 2.16GHz 2GB 16GB SSD
Apple TV 4K 32GB HDR 5th Generation Digital Media Streamer MQD22LL/A
Collectible
Hallmark 2019 Disney Beauty and The Beast Bonjour Keepsake Ornament Pre-owned
Dr Doctor Who 12' Deluxe Striped Scarf Fourth 4th Costume Tom Baker BBC Licensed
Pro Tip: Perfect titles AND item specifics help searchability of your listings.
Shipping for business
eBay Guaranteed Delivery
Buyers love guaranteed delivery dates. Sellers love increased listing visibility. eBay Guaranteed Delivery gives everybody what they want.
Selling internationally
Start shipping to the millions of buyers around the globe, and start reaping the benefits.
Customer service
Attract more shoppers and create repeat customers by giving the service customers love.
Top Rated Program
Become a Top Rated Seller and add the Top Rated Plus badge to your listings, and get all the benefits.
eBay for Business Blog
Learn from successful sellers and eBay insiders how to grow your business (and stay sane while you do it).
eBay Community
Join the community to ask questions, get answers and engage with other sellers.