eBay Foundation History and Mission



Philanthropy has been an important part of eBay since its very beginning, and is carried out principally through eBay Foundation.

eBay Foundation was established in 1998 and, reflecting eBay innovation, was the first corporate foundation to be endowed with pre-IPO stock. This pioneering decision has inspired over 400 corporations to follow eBay's example and set aside equity to endow philanthropic programs.

eBay Foundation's mission is to contribute to the economic and social well-being of local communities. In carrying out this mission, the Foundation engages eBay Inc.'s employees and customers and supports their pursuit of charitable giving and volunteerism.

Each year eBay Foundation provides grants of more than US$2 million to improve the lives of those who most need help, with many of the recipient organizations selected from customer and employee recommendations. Consistently recognized as one of the San Francisco Bay Area's top corporate foundations, eBay Foundation has made over US$18 million in grants since its creation.

eBay Foundation has a longstanding relationship with the Silicon Valley Community Foundation. All eBay Foundation grants are made through a corporate advised fund with the community foundation.




Philanthropy Engaging eBay Inc. Employees: GIVE Teams; Volunteerism; Matching Gifts



Employee programs are an integral part of eBay Foundation's work and offer a variety of ways for eBay Inc. employees around the world to make a difference in their local communities. Each eBay Inc. location is empowered to form an employee group - called a GIVE Team - that assesses local needs and recommends nonprofits that the Foundation should support through its grants. Employees are also encouraged to assist nonprofits of their choice by volunteering their time and expertise, and the Foundation facilitates these efforts. In addition, in the U.S. and Canada, the Foundation supports employees' personal giving by matching their donations of money or time to qualifying organizations.




Philanthropy Engaging eBay Inc. Customers: 'Community Gives' Campaign; eBay Giving Works



eBay Foundation also has an innovative program - called the "Community Gives" campaign - that engages eBay Inc. customers. This campaign seeks to create good in the world by inspiring people to contribute together to worthy causes. Last year the campaign supported the causes of three nonprofits: First Book (promoting childhood literacy), Oxfam America (providing access to clean water), and Best Friends Animal Society (fostering animal welfare). The Foundation contributed $1 million to these nonprofits, split equally among them, and invited eBay Inc. customers to join in donating to the nonprofit of their choice. For each person who donated during the campaign, the Foundation made an additional contribution.

In addition to philanthropy through eBay Foundation, eBay has created a special program - called eBay Giving Works - to facilitate philanthropy by eBay customers. eBay Giving Works empowers people to buy and sell on eBay to benefit a cause, bringing compassion to ecommerce. See more here http://www.ebaygivingworks.com .


For more information on eBay Inc.'s Philanthropic Programs, please send an email to globalcitizenship@ebay.com. For information on eBay Inc.'s Social Ventures, please see http://pages.ebay.com/dz/en-us/aboutebay/socialventures.html, and for information on eBay Inc.'s Environmental Activities, please see http://pages.ebay.com/dz/en-us/aboutebay/environment.html.

eBay Inc. employees volunteering at Habitat for Humanity project in Vancouver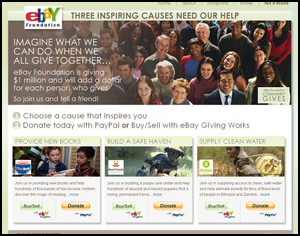 2008 'Community Gives' campaign homepage