How do I see if I have a coupon?



Go to eBay.com and open My eBay. If you have a coupon available it will appear in your summary section.




You can also hover over the 'My eBay' tab on the right hand side to see if you have a coupon available. Click on the 'coupon' message at the bottom to learn more about the offer.







Step by step guide to redeem your coupon



1. Start shopping on eBay. Be sure the seller accepts PayPal as PayPal is required to redeem your coupon.

2. Once you've selected an item(s) to purchase, proceed to the checkout page.

3. Enter the redemption code at checkout.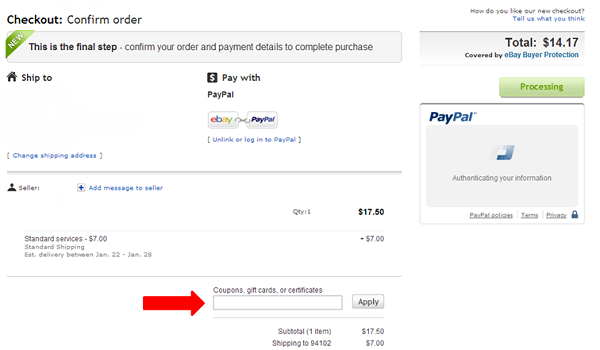 Note: Coupons will never require you to enter sensitive information in an email such as: credit card number, User ID, email address or eBay or PayPal password.