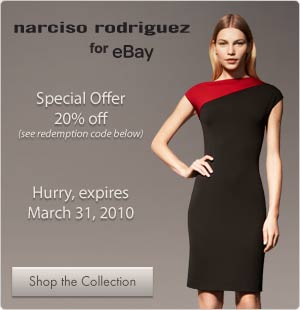 20% off on up to ten items from the collection
Valid on items from the Narciso Rodriguez for eBay store
Redemption Code:
COMESHOPNARCISO
Expires: March 31, 2010 at 11:59 PM PT
1. Start shopping the Narciso Rodriguez for eBay store by selecting the link above
2. Pay for your item with PayPal before the expiration date: March 31, 2010 at 11:59 PM PT
3. Enter the code COMESHOPNARCISO in the redemption code field.
The offer will expire at 11:59:59 PM PT on March 31, 2010. Discount applies to the purchase price (excluding shipping, handling, and taxes) of a single item from the seller,
narcisorodriguez
, on eBay.com up to the maximum amount specified on the coupon . Redemption of the coupon is limited to registered eBay members who pay for the item with PayPal. Any unused difference between the total purchase price and the maximum amount will be forfeited.
The coupon is void where prohibited, not redeemable for cash, for up to ten-times use per registered eBay member only, and has no face value. The coupon is subject to U.S. laws and cannot be combined with any other coupon. eBay reserves the right to cancel, amend, or revoke the coupon at any time. Use of automated devices or programs to redeem the coupon is prohibited.
Purchases made through customized checkout systems which do not accept coupons are excluded.