Back in May 2005, Bill Cobb, President, eBay North America outlined his six priorities for eBay in 2005. One of these was developing tools and programs to make shipping easier. As 2006 gets into its stride, we met with Shane Menchions, Shipping Manager, Seller Development, to review some shipping-related features and initiatives that are making shipping easier for eBay sellers.
---
"Most of our initiatives last year were focused on making shipping more transparent on the site," Menchions began. "We've made shipping costs more visible to buyers, so they can make more informed purchase decisions. From a seller's perspective, our initiatives are helping sellers reduce Unpaid Items and spend less time and effort on shipping related activities."
Making Shipping Costs More Visible
One of the key shipping related changes went into effect in October of 2005. eBay began showing shipping charges on search results and browse pages by default.
It was a change that helped buyers compare the total cost of items from different sellers, and also added more transparency to help the marketplace defend against "shipping gougers," or sellers who avoid fees by setting a low listing price with unreasonably high shipping charges.

Flat Rate and Calculated Shipping for International Buyers
Menchions described another shipping enhancement that's helping sellers communicate the cost of shipping to their international buyers. Until recently, many international buyers had a hard time getting accurate information on the cost of shipping the item from the U.S. to their country. (Likewise, U.S .buyers had the same problem about shipping costs from international sellers.) Even if the seller had specified that they were willing to ship to the buyer's country, the shipping column in search results displayed the U.S. domestic shipping cost even though the buyer was not in the United States. The same was true for the top of the item page as well.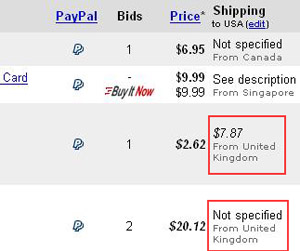 Sellers can choose to show shipping costs to specific
countries - instead of "not Specified" in the shipping column.
Now, thanks to a shipping enhancement, sellers can make sure their international buyers can see the cost of shipping the item to their location, when they view the listing from outside the U.S – usually in the buyer's local currency.
For instance, a seller who's willing to ship their item internationally to Australia, Germany, and the U.K, can set different flat rate shipping prices for each of these three countries. When potential buyers view the listing in the search results page, or on the item page, from these three countries, they will see only the relevant shipping cost in the shipping column – i.e. a buyer in Australia will see the shipping cost that the seller has specified for Australia; likewise a buyer in Germany will see only the cost of shipping it to Germany. In fact, even if the German buyer visits eBay.com instead of eBay Germany (eBay.de), they will still see the correct cost that the seller has specified for shipping to Germany, and not a U.S. domestic rate.
Calculated Shipping for International Buyers
Another shipping feature that sellers can take advantage of is Calculated Shipping. This feature allows sellers to specify the package size, handling fee and weight of the package they want to ship, and choose a shipping service. It then automatically calculates the shipping costs – for every country in the world! Buyers in any country will see the correct cost of shipping the item to their country (in U.S. dollars). The handling fee is added to the calculated shipping cost but is not displayed separately for the buyer.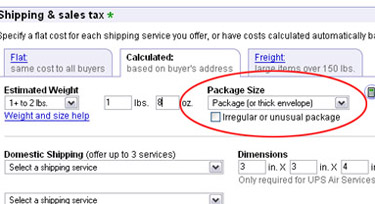 Enter package size, weight, and dimensions to calculate shipping
Menchions explained how high-volume sellers are especially benefiting from these features. "High-volume sellers are always busy answering questions about shipping from international buyers. This feature helps save them a lot of time and effort by providing the shipping costs upfront to international buyers. This increases international traffic to their listings, too!"
Printing Postage-paid Shipping Labels and Customs Forms via PayPal
A key aspect of shipping items internationally is paying attention to documentation like customs forms. "We had heard from the Community that the time and effort involved in doing this was a key barrier to selling internationally," Menchions recalled. Now a shipping improvement, launched in
November 2005, is making it easy for sellers to purchase and print international shipping labels and customs forms – from the convenience of their desktops.
From their PayPal accounts, sellers can generate and print customs forms, as well as print shipping labels that have the buyer and seller's address, and other helpful details of the transaction like tracking information and delivery confirmation. This information is also accessible in My eBay to both the buyer and the seller, making it even more convenient for both.
Finally, Menchions revealed some insights about more innovations that the Shipping team has set its sights on in 2006. The "coming soon" list includes projects to convert shipping costs into local currencies in a more efficient way, and a major redesign to make the Payments and Shipping section of the Sell Your Item form easier to use. Stay tuned.
---