eBay In Person: Susan Kim
by Zigmund
eBay Staff member

Hold 'Em! Two pairs from poker
enthusiast Susan's collection
This month we meet with Susan Kim, a Manager in our Buyer Product Marketing team. In her three years with the eBay, Susan has played a key role in creating one of our most popular features – Want It Now. Within the company, she's also renowned for her expansive, what-are-you-going-to-do-with-all-these shoe collection. Here she shows off two recent additions to her collection – two pairs of shoes she bought on eBay –Kenneth Cole and Jimmy Choo bought on eBay.
---
So what exactly is Buyer Product Marketing?
The Buyer Product Marketing team works with different groups within the company, such as Community Development, our Product teams, etc., to create and improve features that make it easier for buyers to use eBay. Want It Now (WIN) is the perfect example – it lets buyers tell sellers what they're looking for. Now we're working on ways to make it better, such as showing Want It Now posts in My eBay. This means that buyers will be able to check their My eBay to see responses to their WIN posts from sellers.
How long have you worked at eBay?
I started at eBay almost three years ago, coming from Sony Pictures where I was in Business Development. At eBay I first worked in category marketing for the Home and Toys categories. I helped to create our Hot Toy Picks and our marketing and PR campaigns, which was a lot of fun. Another time, I got the chance to meet Martha Stewart! She was hosting a dinner to thank her San Francisco-based advertisers. I went with a few members of the eBay team. We took a photo with her and then she asked me to say "Hi" to her to friend Meg (Whitman, eBay's CEO) for her. That was definitely a memorable eBay experience for me.
What do you like most about working at eBay?
I love working with eBay's Community. It makes me feel really good to know that we're making a difference; it makes coming in to work a pleasure. For example, a member sent me an email right around Christmas telling us how much eBay had helped her establish her own business and independence – I was so moved by it that I was literally crying while reading it, and that's why I work here.
I also love the experience of meeting actual eBay members face-to-face at eBay Live! every year. Since I browse through eBay's discussion boards (usually the Search, Seller Central, and eBay Stores boards) almost every day, I've got to know some of the folks who post regularly. It's wonderful to actually meet them in person at eBay Live!, share their excitement, and listen to their perspectives about the site.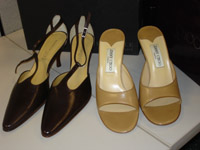 Two pairs from Susan's collection
What are some of your favorite things to do outside of work?
Well, I've got some eclectic tastes. I love playing golf with my husband. I bought my Big Bertha driver on eBay! It was a super deal, and in great condition. I also like to "pair" food and wine. My husband and I often try new recipes with different wines to see what works and what doesn't. I also watch a lot of Reality TV, like American Idol, America's Next Top Model, and The Amazing Race. With some friends, I actually tried out for the second season of The Apprentice, waiting in line for eight hours in San Francisco. We got there at 5 a.m. and didn't get in to audition until 1 p.m. – and we still didn't get picked! And then there's my guilty pleasure side – I'm a big poker fan, and I play a lot of No Limit Texas Hold 'Em.
So what's with your shoe collection?
I love, love, LOVE shoes – mainly because no matter how much weight you gain, your foot size stays the same! I can't even keep track of how many shoes I have – probably about a hundred pairs. I'm a huge bargain shopper, so most of my collection is shoes that I've got for a steal. When department stores have their semi-annual clearance sales, I just go in there and grab anything in my size that I can. And believe me, it can get vicious in there. One time I was holding a pair of pumps and a few other women were coming after them too – I guarded those shoes with my life.
I wear about 20% of my shoes regularly; the other 80% are for special occasions. Most of them I just like to look at – they're so pretty.
What's your most memorable eBay purchase/sale?
Surprise, surprise, it's actually a pair of shoes – Hogans, which are really hard to find. Needless to say, when I discovered eBay, it was a godsend for my shoe collecting hobby. The Hogans were my Holy Grail of shoes for a long time. None of the stores I visited had them in the color I wanted, but I found them on eBay. And for a great price too!
The seller was a nice lady from New York , who owned a bakery. We got to talking about shoes and had a very pleasant email exchange about our mutual passion right after the sale. I mentioned that I was actually going to be in New York for an upcoming weekend, and she suggested I stop by her bakery to pick up the shoes in person. It was a nice little adventure, meeting my new friend in a bakery in New York , and feasting my eyes on my new pair of Hogans. I added a fabulous pair of shoes to my collection, and in the bargain, also made a friend. This could happen only on eBay!