Ask Griff
Jim Griffith, also known as "Griff", is one of eBay's most beloved staff members. Griff has also authored the eBay "How to" guide, The Official eBay Bible, and is the host of eBay Radio, with shows airing Sundays at 4:00 PM PT and Tuesdays at 11:00 AM PT. Each month, Griff will take some of your questions about eBay, and answer them in his own inimitable style.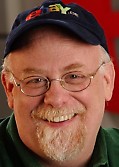 Jim 'Griff' Griffith
My Listing Doesn't Show Up When I Search The Category
by Jim 'Griff' Griffith
eBay Staff Member
Q: Hi Griff, I have a problem. I listed an item on eBay but when I search through the category in which I listed it, I can't find it. I'm guessing no one else can either. My listing has 1 day and 3 hours left, and there are no bids on my item.Where is it?
Thanks,
Lisa
A: Hi Lisa,
There are a couple of methods you can use to find the current location of your item. Not only that, you can also see its current page number in the list of all pages in that category and sub-category.
Advanced Search with item number
If you have your item number handy, you can find your listing in just three clicks! Here's how:
Click the Advanced Search link on the top of any eBay page.
On the left hand side of the page, there is a box labeled "Search." Locate and click the link for By Item Number.
Enter your item number into the box provided.
Click the option for Find location of item.
This search method will display your listing and its current location by page number. Your listing title will appear with a yellow highlight. Click on the link to view your listing.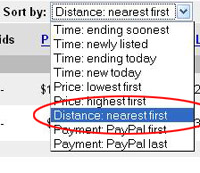 Sort by distance
Another quick way to find your listing is to navigate to the category in which you listed it. Then, from the "Sort by" drop down list, select "Distance: Nearest first." This method uses ZIP codes to sort the list of items, and displays items nearest to your ZIP code at the top. Since your item is closest to your location, your item will be shown on the first page (or pages) of results. (Of course, this also depends on how many other sellers in your ZIP code are listing similar items).
Regards,
Griff