ACEOs - A Flourishing Art Form Born on eBay

by Nino
eBay Staff Member
eBay's home-grown art movement
For as long as anyone can remember, baseball cards have been one of the most popular and prized collecting hobbies. Everyone is familiar with the compact yet elegant format of the baseball card—in an area only 2.5" x 3.5", these cards aesthetically capture the grace and energy of athletes in their element.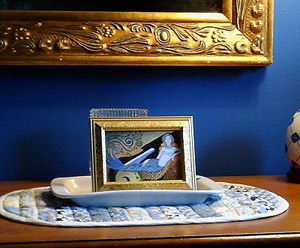 An elegant display highlights an exquisite ACEO
(picture courtesy - painted_girl)

Inspired by the familiar baseball card format with sports collectibles, but in 2004, a new art form was born on eBay. A group of innovative artists created a variation of the traditional baseball card format called the Art Cards Editions and Original, or ACEOs for short. Almost two years later, ACEOs are flourishing. More and more people are collecting ACEOs; art supply stores are beginning to stock specialized materials that help artists create them. Perhaps most significantly, art critics are beginning to take notice of these small yet exquisite works of art.
The main difference between ACEOs and the more traditional "art cards" (which also have dimensions similar to baseball cards and have been around for a while) is that artists primarily create ACEOs with the intention of selling them, preferably on eBay. On eBay, artists can offer their ACEO creations directly to a worldwide audience of art lovers, and get better prices in the bargain.
Canvassing for members
It all began in October 2004 with eBay member bone*diva. As an artist who sells her work on eBay, she had seen the older "art cards" and had noticed that many art buyers were dissatisfied with the range of subjects and quality of artwork that was available. When a friend begged bone*diva to use her artistic skills to do something about it, she adopted a quintessential eBay Community approach – she started an eBay Group and invited members on the Art & Artists discussion board to join. She was stunned by the response from fellow artists on eBay, who flocked to join the group. With about 100 artists joining the group, it grew rapidly, and soon an entire movement arose around ACEOs. Today, the ACEO Group has over 2300 active artists.
Early on, the artists agreed on the basic guidelines to define the ACEO art form. They kept these simple, so as not to restrict individual creativity. ACEOs have only three basic rules:
The size of an ACEO should be 2.5" x 3.5". The group decided to adopt this uniform standard size, which was widely recognized by collectors. Any sizes larger or smaller would not qualify as ACEOs, and would be listed under other categories.
All work must adhere to basic Copyright Law. This was very important to the founding artists, who understand the importance of respecting and acknowledging original work. One of the most important activities of the group is to help members understand the implications of copyright law as it applies to ACEOs.
There are no other rules. Artists have complete freedom in making creative decisions, such as the subject of the ACEO, or the materials used in its creation.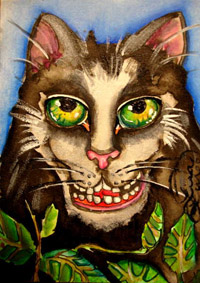 Cats are popular ACEO subjects
(picture courtesy - bone*diva)
Once these basic rules were framed, a myriad of ACEO creations began appearing on eBay. Today, art lovers can find ACEOs with pretty much any theme under the sun—ranging from surrealistic fantasy art to traditional landscapes and still life subjects.


phillybelles*art
, one of the most active ACEO Group members, laughs that ACEOs with animal themes are a recent popular trend. "Cats, crows, horses – you name it. These subjects seem especially popular with collectors these days," she says.
The freedom to create - and sell for more on eBay
painted_girl, another artist who has enthusiastically taken to creating ACEOs, describes the wide variety of materials used in their creation. "It's totally at the discretion of the artist. I've seen ACEOs that use watercolors, oils, wood, leather, collages, and even aluminum!"
As an artist who has experimented with several art forms, painted_girl gives some insights into the creative appeal of ACEOs for artists. She says that working in the limited area of an ACEO format provides exciting challenges to artists. "I've often heard artists who are new to ACEOs complain, 'This is so hard! How can I possibly get everything so small?' But soon enough, the same people say, 'I'm getting addicted to this!'" She explains that there's a lot of cross-over from artists specializing in miniatures.
Likewise, collectors of miniature paintings are also drawn to ACEOs. In fact, a whole new collecting industry has sprung up around ACEOs. Collectors are beginning to store and display their ACEOs in several unique ways. "We're seeing so many display methods," says bone*diva. "People are displaying ACEOs in sets of 20 in a shadow box. Many people use photo albums to show off their collections. I've also seen finely-crafted, hand-painted wooden boxes that people use to store their ACEOs." Framing individual ACEOs like traditional paintings is also common.
Besides giving reign to their artistic creativity, the ACEO movement on eBay has also empowered artists to achieve a greater degree of economic freedom. On eBay, artists can reach a global audience of art lovers, and get better prices for their work. painted_girl is glad to be free from the restrictions of exhibiting in conventional art galleries, which typically take a 50% commission from every sale. "Conventional galleries are conservative. They expect you to come back with the same tried-and-tested styles, year after year. It can get monotonous. But on eBay, you can experiment, try different things. And—you find a huge market for your work." After listing on eBay, she has dramatically increased sales of her work, and today, at least 50% of her sales come from the site.
How eBay helps
bone*diva, the artist who started the ACEO movement, acknowledges that it wouldn't have been possible without eBay. "I don't think it could have happened, or happened so quickly, without eBay." Even the international composition of the ACEO Group—it has members from Australia, Canada, and Spain, among others—speaks to eBay's global appeal. phillybelles*art adds that the many ways eBay provides for artists to promote their art have also benefited the movement. These include cross-promotions, the ability to display their work in an eBay Store, and of course, the unique Community feeling of being able to discuss and share in forums like eBay Groups and the discussion boards.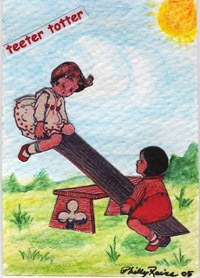 ACEOs come in different styles
(picture courtesy - phillybelles*art)

bone*diva explains some of the ACEO Group's regular activities. The group helps members with advice and suggestions about the actual process of creating ACEOs and listing them on eBay. This includes suggestions on making listings more appealing, writing good item descriptions, advice on taking pictures, and writing HTML code. phillybelles*art is one of the moderators in the group, and she especially likes to see new people succeed on eBay. "It's really exciting for me to celebrate an artist's first sale on eBay!"
One of the group's most important activities is helping members understand copyright issues. The ACEO Group has useful resources that help members understand issues like copyright issues for using material in a collage, and international copyright considerations.
And, of course, ACEO Group members love to share their work with each other.
The art world takes notice
So, what lies in the future for the ACEO movement? bone*diva looks back at the rapid growth of the art form and predicts that it won't be long before art collectors consider ACEOs not only for their artistic merit, but also as solid art investment. "The art community will validate this as serious art," she says.
Already there are signs that this is beginning to happen. Many artists are getting commissions from buyers who request specific types of ACEOs. Several companies have approached painted_girl to license her art on their products, such as cross-stitch patterns, soap and perfume labels, and even on tattoos and t-shirts. Big art suppliers have started selling ACEO sized materials.
It's a limitless canvas.