The Power of All of Us – The Making of an Ad Campaign
by Nino
eBay Staff Member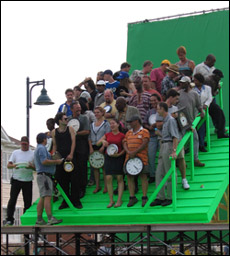 A special effects technique called "green screen"
is used to create thousands of sellers
eBay is about millions of human connections. People from vastly different backgrounds from all over the world come together on the marketplace every day for business and fun. When perfect strangers, who are thousands of miles apart, trust each other to conduct transactions, it's a compelling testimonial to the power of everyone in the eBay Community. At the core of this power is the strength of eBay's Community Values, which are built on the bedrock that "People are basically good."
From its earliest days, eBay's unique identity derived from its Community and its Community Values. While eBay has come a long way as a pioneer in the world of e-commerce, the strength of the Community – or the Power of All of Us – continues to drive and inspire us.
To celebrate the idea of the Power of All of Us, eBay launched a new advertising campaign that will run on television and in print over the holiday season. The campaign made its debut in the national media on October 18, with TV spots and print advertisements. The Chatter team met some of the people involved in the campaign to find out how it evolved and how it is different from eBay's previous campaigns.
---
Director of Brand Marketing Kevin McSpadden was excited about the campaign and acknowledged that it is quite different from the previous hugely popular "Do it eBay" series of ads, which ran since 2002.
"The Do It eBay campaign reflected the fun and eclectic nature of using eBay," McSpadden says. "But it wasn't getting at the emotional side that makes eBay so unique."
McSpadden and the Brand Marketing team were on a mission to understand the relationship that people have with eBay. In talking to many groups of actual eBay buyers and sellers, what they heard re-affirmed eBay's founding principles of providing a level playing field and people treating each other fairly. Their findings add evidence to the idea that eBay's importance to individuals transcends the conventional marketplace elements of supply and demand.
As they talked to more and more people, a consistent theme began to emerge: that eBay is about trust and enabling people to connect over shared interests and passions. Again and again, the team found that people believed that eBay works because – people are inherently good. As one of the focus group participants said, "eBay works because of the people who use it. It's about us – the Community."
From this essential value – that people are good – the idea of the "Power of All of Us" campaign was developed. Diane Forese, VP, Consumer Marketing, had this to add about the genesis of the campaign: "We wanted to communicate what makes us unique. Our users' willingness to come and trade in this way shows that people are willing to trust each other. This makes buying and selling on eBay a unique experience. No other company can make that statement."


Photo shoot for one of the new print ads
Meg Whitman, eBay's President and Chief Executive Officer, was one person who rooted enthusiastically for the Power of All of Us concept right from the beginning. As Jeff Goodby, co-chairman and partner of the advertising agency involved in the campaign, Goodby, Silverstein and Partners, put it, "Spiritually, it came from Meg. She really had the vision of this thing being as big and as emotional as it is and she kept encouraging us to go in this direction."
Having identified the core message of the campaign, the Brand Marketing Team and its advertising agency, Goodby, Silverstein and Partners, worked together to find a way to realistically portray the Power of All of Us concept. Goodby explained the challenge that faced the team: "It's a delicate thing to dramatize the idea of the goodness of people. You don't want to seem to be taking credit for the fact that people are good. In fact, it's the opposite. eBay is the beneficiary of the fact that people are good."
Jamie Barrett, the advertising agency's creative director and partner added, "There's an element of magic to eBay. When you're new to eBay or an experienced user, it's magic. Everything is at your fingertips. It's big and it's universal. To do justice to this notion, we needed to have some of that universal scale. There are some really powerful things to say, and our job was to figure out the most appropriate ways to say them."
The team's creative approach was to take slices of life, both on and off eBay, and reflect them as metaphors for the foundational concept that "people are inherently good." Each advertisement, therefore, presents a different aspect of the concept.
Forese explained that deriving the campaign from a Community perspective, rather than speaking with eBay's corporate voice, was important to its credibility. "We wanted to hold a mirror up that would reflect and celebrate the Community," she says. "That is why in our lead spot, Belief, it was important to find real-world examples that reflect how people treat each other on the site."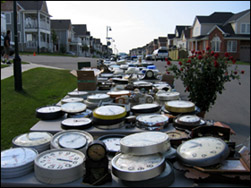 Props for the Clocks commercial
The print campaign, where the ads use the headline, "People are Good" is a continuation of the conviction that without this belief, eBay could not exist. "It's the fuel that has enabled eBay to grow into the vibrant community it is today," emphasized Forese.
While shooting the ads was demanding work, the team also said they had fun. For the Clocks ad, the team filmed about 400 people, each dressed in a variety of styles, and each holding a unique clock. Through the miracles of digital editing, they were able to create an entire neighborhood full of eBay clock sellers. Many of the "clock sellers" were actual eBay members, who McSpadden said were really excited to be part of an eBay brand campaign.
How have members responded to the campaign so far? Jamie Barrett recalls showing groups of users a sneak preview of the ads before they officially launched. "It was fun to watch the reactions of people who didn't know who the spots were for. Their eyes got a little bigger, and you could tell part of their curiosity was, 'Who is bringing me this, and how is this going to come to a close?' When eBay, The Power of All of Us, came up, you saw them really get it. If it was any other company's name up there, it would be a big head-scratcher, but with eBay, they can relate."
---
The Power of All of Us campaign is more than a campaign for television and print. It also seeks to involve the very Community that it is celebrating by asking members to share their favorite eBay stories. Almost everyone in the Community has a memorable story to tell of eBay members going above and beyond, connecting with others, and reaching out to help perfect strangers simply because it's the right thing to do.