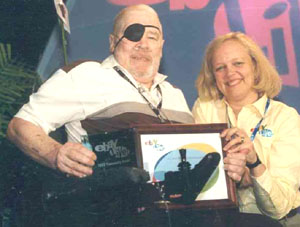 In His Own Words:
Helping Himself by Helping Others
by Bob Bull
eBay Member
eBay and your health. What does one have to do with the other, you may ask? If you are one of the millions of unfortunate ones with health problems, eBay can be a lifesaver like it was for me. Learn more about my situation from my website My Own Case.
A few months ago, eBay contacted several charities to begin the process of setting up the now finished eBay Giving Works , a wonderful way to help the less fortunate than ourselves.
One of the charities contacted by eBay was The National Multiple Sclerosis Society. The National Multiple Sclerosis Society is a non-profit organization for people with MS (Multiple Sclerosis), a non-curable disease. In response, they sent Rachel Adelson, a science and medical writer, to eBay Live 2003! in Orlando, Florida to gather information about eBay.
My name was mentioned to Rachel, and she contacted me at home several days later to ask me to help her write a story for Inside MS, a quarterly magazine for those of us with this disease. We did the story to help the many folks who want or need help to get started selling, buying, or helping others on eBay.
Since the magazine article was published, I have been very busy with emails asking for my help. Many people want advice on getting started on eBay, so that they can help themselves gain a better life.
Spending time on eBay can provide people with MS both monetary assistance and the peace of mind that they can still play a productive role in society.
A good way to start gathering information on eBay and answers to your questions is by getting familiar with the Site Map. I can usually be found helping people with their questions on the Photos/HTML Discussion Board or the Images/HTML Chat Board. I spend as much time there as my health permits.
Please look around and see if you may have neighbors with health issues who may be able to help themselves on eBay with just a little assistance from you. Maybe take pictures for them, wrap their items, or even take their packages to be shipped.
Be sure to check out eBay's wonderful way to sell for charity using eBay Giving Works. It's one way uou can help fight the many incurable diseases plaguing this world today.
As I have said many times before, "You Can Make A Difference".
---
Read Bob Bull and eBay: Making a Virtual Difference, in the Jan-March issue of Inside MS. We'd like to thank the publisher of Inside MS for permission to link to this site.