Business Saves on eBay To Stay Competitive

eBay is an important source for business people. To raise awareness and celebrate this group of eBay members who use eBay as a resource for their brick-and-mortar businesses, we have launched the Dream Big. Save Big. promotion that runs through 04/15/2004.
In celebration of this promotion, Tracey, a real eBay member who is pictured in a new print ad for this promotion, submitted an article about how she uses eBay to help her company save money. Tracey is the Vice President of Mitchell Insurance Services, and is based in New Jersey.
---
I've been involved in the insurance industry in New Jersey for over twenty years, having worked my way up from a receptionist/file clerk through various positions until forming Mitchell Insurance Services, Inc. in 1997 with my partner, Tom Mitchell. We are an independent insurance agency, which means that we represent many different insurance carriers instead of just one. This gives us the ability to "shop around" to find the most comprehensive, cost-effective insurance products that will satisfy our clients' requirements instead of them needing to call many different companies themselves. Our client base includes businesses, both large and small, as well as individuals.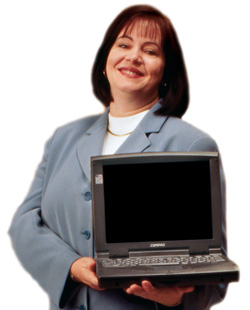 As someone who is curious by nature and who also loves a great deal, eBay was a concept I felt warranted investigation immediately upon its introduction. After realizing savings on numerous personal "trinkets," it occurred to me that maybe...just maybe...there might be something out there that would help our fledgling business to economize. A quick search generated a mind-boggling array of products that I was buying every day from local retailers (whether in-person, by phone, or online) at significantly higher costs. I was immediately hooked.
The more I bought, the more I saved. The more I saved the more, or better quality, equipment and supplies I was able to afford. I couldn't wait to brag about my savings to everyone I knew! We have purchased everything for our business from Rolodex supplies, to computer equipment (including a laptop), to a trade show display booth, digital cameras, replacement cartridges for our various office equipment, and, most surprising to us, a full-size copier including sorter.
One of my favorite categories is the toner or ink cartridges where savings are truly amazing. Most recently, our service technician quoted us a price of approximately $400 to replace a worn part in one of our printers. Not expecting much, I still checked eBay and was pleased to receive the part, with detailed instructions, at a total cost of $167.50 (including shipping) only a few days later. After investing fifteen minutes of our own time, our printer was as good as new!
Although I am primarily a buyer on eBay, we have also sold some office equipment that was upgraded by other pieces. Our latest estimation of our savings by using eBay is in excess of $30,000. These savings allow us to buy better equipment than would otherwise be within our budget, giving us the ability to compete head-to-head with larger competitors who would otherwise overshadow us.
I have two strong suggestions for anyone considering shopping on eBay: First, nothing is out of the range of possibility to be found on eBay (even discontinued items and supplies). Second, be an educated consumer. Comparison-shop the item you are looking for by using advertisements and other media, including manufacturers' websites. Take note of not only the item you were originally considering but also a "dream upgrade." Then, go to eBay and search them both. It is likely that you will be pleasantly surprised to find that you can afford to either make your dream a reality or save significantly on the item you originally wanted.
---
As part of the "Dream Big, Save Big" promotion, you can participate in our $50,000 eBay Business Shopping Spree* grand prize contest by answering the question, "If I won $50,000, what would I buy on eBay to help my small business, and how would it make my business dreams come true?" You can also learn how to be entered to win weekly prizes, receive special offers and gifts, and access our small business resources. Visit www.ebaybusiness.com and click on the "Dream Big. Save Big." icon to register. *No purchase necessary. Open to legal U.S. residents 18 years of age or older. Complete details available at www.ebay.com/dreambigrules. Void in Puerto Rico, Florida and where prohibited. Contest begins 2/19/04 and ends 04/15/04.