What is it?


Second Chance Offer is a feature which enables sellers to offer an unsold item to the closest, non-winning bidder. The buyer can purchase the item at a Buy It Now price equal to their original bid amount.
Second Chance Offer is useful in the following scenarios:

• The item did not meet Reserve, but there is a bid that is close
• Additional inventory is available for sale

How it works for Sellers



To qualify for Second Chance Offer, the following criteria must be met:

• Seller has duplicate items for sale
• Auction ended without meeting the Reserve Price
• The winner doesn't complete the transaction

Note: The number of offers you send must be equal or less than the number of items you have for sale.

There are no fees associated with using Second Chance Offer, you only pay the Final Value Fee once the offer is accepted.

Reserve Price
If a buyer accepts your Second Chance Offer for an item where the Reserve Price was not met, the Reserve Price fee will be automatically credited to your selling account.

Sending a Second Chance Offer



Second Chance Offers can be sent from My eBay, View Item or Bid History pages.

From My eBay:
Go to All Selling, click the "Sold" or "Unsold" link.
If Second Chance Offers are enabled for an item, the Second Chance Offer link can be accessed by selecting the pull down menu in the Action column in My eBay.
Click on the "Second Chance Offer" link, and then click the Continue button.
Select the bidders you would like to extend Second Chance Offers, and the duration of the offer and a personal message to the buyers. Click Continue.
Add a personal message to your bidders and click Send.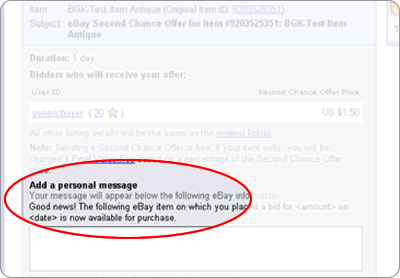 How it works for Buyers


When an auction ends without a winning bid, you may receive a Second Chance Offer from the seller to purchase that item anyway. The seller can offer you the chance to "Buy It Now" using your last bid amount.

If you receive a Second Chance Offer, it will be reflected on the closed View Item page as a message that there is "an offer waiting for you". You can then click on the Second Chance Offer link to view the details and make a purchase.




A Second Chance Offer message alert will also be displayed at the top of any eBay page when you sign in to remind you that you have an offer about to expire.




Go directly to Second Chance Offers details in My eBay All Buying > Items I didn't Win. Select the Second Chance Offers filter and click on the Buy It Now link to purchase the item.



Note: All Second Chance Offers will be displayed in My eBay.