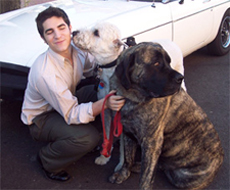 Milt Barr isn't your average high-school grad. This 18-year-old entrepreneur from
Pittsburgh,
Pennsylvania,
has transformed himself into true businessman, wholesaling bulk lots of surplus DVDs to independent merchants across the country.
Once a father-son hobby, Barr's eBay enterprise has mushroomed into a full-time vocation. Besides aggressively growing his eBay entertainment business, Barr is readying a 2,800 square-foot retail store, where he will rent and sell DVDs and video games, and he'll even help operate an adjoined pizza franchise. Throughout the holiday season, he has also been listing list 10,000 DVDs a month on eBay in assorted bulk lots.
"I used to mainly sell to individuals who bought my movies to sell them one at a time on eBay," says Barr. "Now, most of my customers are retail stores or people who want to open stores."
Considering Barr's ambitious plans, you'd never guess his business had such humble beginnings. He got his start buying video games out of bargain bins at game shops and then remarketing them in bulk lots on eBay. Next, he started supplementing his inventory with games he found on eBay. Before Barr knew it, he was a bona fide eBay seller.
"It just exploded and took on a life of its own," says Barr. "I never really expected this to turn into a full-time business, but I'm glad it did."
Before long, Barr was augmenting his sales with DVD movies, which turned out to be a prescient decision. Around the same time new sellers in the Video Games category began to eclipse what Barr could source and list, several DVD liquidators looking for reliable customers approached him.
"I was at the right place at the right time," says Barr. "Once my Feedback was over 200 and 100-percent positive, I really was able to source a lot more inventory. Just based on my Feedback, my business boomed."
Steady inventory isn't the only key to Bar's success. His business has some savvy ground rules, as well. For one, he doesn't list just anything he can find. All of his bulk lots feature major releases or popular independent films that have been screened at the Sundance Film Festival.
Additionally, he tracks the eBay DVD market with eBay Pulse and runs automated Favorite Searches for hot, new DVDs to incorporate into his bulk lots and drive buyer interest in them. While only two percent of his items are sourced on eBay now, he says, most of his lots have DVDs he bought on eBay (often acquired for less than what he would have paid a retailer or one-stop wholesaler).
"If you put ten hot movies at the beginning of any lot, you'll get a lot more people looking at it and you'll get a lot more bids," explains Barr.
To compliment his inventory of DVDs, Barr also occasionally buys bulk lots of video games and DVDs in eBay's Wholesale Lots categories. He then takes the items and mixes them into other group lots.
"I'll bid on a wholesale lot if I know I'm getting a great deal and the listing is guaranteed by PayPal," says Barr.

Click here to read more Inside eBay Member Profiles. And, tell us what you think of the Inside eBay buyer newsletter. Email us your feedback!