Get the hottest concert and theater tickets, discover once-in-a-lifetime experiences, or score premium seats to your home team's next game on eBay.

Types of Tickets

Find tickets to almost anything, including concerts, sporting events, and theme parks, on eBay.


Ticket Shopping Tips

Familiarize yourself with the event venue and the ticket pricing structure.
Pricing: Everyone wants to get a good deal. To get a sense of the current market value for tickets, search Completed Listings to see how much similar tickets sold for in the past 14 days on eBay.


Item details: Read item descriptions carefully to get details about an item or promotion offered by a seller.


Venues: Will you get good seats? Most sellers include a venue name and venue map in listings. The venue map allows you to see seating section locations within a venue.


Pictures: Sellers should provide a scan of tickets. For high-priced tickets costing more than $300 per ticket look for proof of authenticity.


Shipping: Look at who will pay for shipping, how much it costs, the delivery method, and item location. If you don't feel comfortable with a seller's terms, don't buy. Fair prices for shipping a pair of tickets:

Standard (US Mail): $3.00
Overnight (UPS, FedEX): $15.00



Payment: Does a seller accept PayPal? This payment method securely stores your credit card information and allows you to pay for items quickly and easily. PayPal Buyer Protection may even cover your purchase up to $1,000. Never pay using instant cash transfer services such as Western Union or MoneyGram International.
Use common sense while you shop. Tickets and prices that seem too good to be true should immediately throw up a red flag in your mind .


Regulations & Refunds

Some states have laws against reselling tickets for events inside the state for more than face value. However, you can legally buy and sell tickets in most states nationwide without restrictions. eBay permits nationwide ticket sales and manages sales in a way that accommodates all state ticket resale laws and encourages lawful transactions.
If a seller lives in a restricted state, all buyers need to adhere to that state's regulations, including regulations about maximum resale ticket prices (maximum bids).
If a buyer lives in a restricted state, he or she needs to adhere to that state's regulations, even if a seller lives outside the state.

Everyone should respect the laws of states where they live and do business. To determine if tickets for an event have state resale restrictions, eBay verifies the location of all ticket buyers and sellers based on registration information and credit card information. You could face penalties for violating state laws regulating resale tickets. Visit the Rules & State Regulations page to get information about specific state restrictions before you buy.

Face Value
"Face value" includes the price of the ticket and any services charges and tax charged by the original ticket provider. In a few of the restricted ticket states, sellers can charge an additional fee, usually no more than $3 per ticket, to a buyer. The seller can also charge actual postage costs, but no additional handling fees.

Pre-Sale Listings


eBay policy states that sellers must guarantee that the item will be available for shipping within 30 days from the date of purchase. Read about eBay's Pre-Sale Policy for more detail.



The main purpose of the Pre-Sale Policy is to help buyers maintain eligibility for eBay and PayPal buyer protection programs. Buyers should understand that any claims submitted under the eBay Standard Purchase Protection Program must be submitted within 60 days of the end of the listing. The equivalent filing limit for PayPal Buyer Protection covered listings is 45 days from the date of payment. Be sure to review the seller's delivery terms before bidding or buying to determine when the tickets will be delivered, in order to maintain your protection options. Ask the seller a question as needed to clarify any information about the tickets or the delivery timeframe.

Refunds
All tickets should have the same return and refund policies. However, the buyer and seller need to determine and agree on exact terms before a buyer bids or opts to buy tickets using Buy It Now. An item listing should include a clear refund policy in case an event gets canceled. Many sellers offer refunds for tickets returned within 15 days of announced event cancellation; sellers usually qualify to receive a refund for canceled events from the original ticket vender. If an item listing does not have a refund policy, click the Ask Seller a Question link under the seller's profile and email your question before you bid or buy.




How to Find Tickets on eBay

Once you know what type of tickets you want, go to the Tickets portal and start searching for item listings on eBay.
Hot lists: Find links to highly popular events on the Hot Sports and Hot Concerts lists located on the left side of the Tickets homepage.


Schedule pages: eBay has schedule pages for many top teams and leagues, including the NFL, NCAA Football and NASCAR.


Tickets Finder: Use the drop-down menus on the Tickets Finder to quickly narrow down item listings by event type, venue location, date, number of tickets, and price. You can find it on the Tickets homepage or on the left side of pages showing search results.


Keywords: Search eBay listing titles for specific words. For example, if you wanted to find U2 concert tickets, you'd type "u2" into eBay's general search box or into the Keywords box on the Tickets Finder. Click "Search title and description" to expand your results. Visit eBay's Search Tips page for more tips on searching with keywords.


Limit listings: Limit your results to Auction or Buy it Now listings by clicking the appropriate tabs at the top of your search results page.


Search Options: Use the Search Options box on the left side of listings pages to narrow search results. Sort by sellers who accept PayPal, search Completed Listings, exclude listings that don't include Buy It Now, set a price range, or find sellers who live in your area.


Want It Now: Looking for a hard-to-find item? Create a post on Want It Now and tell millions of sellers exactly what you want.


Stores: Visit eBay Stores to find items available for immediate purchase from favorite eBay sellers.


Saved search: Still can't find exactly what you want? Save your Search and eBay will email you when a match becomes available.
Buy With Confidence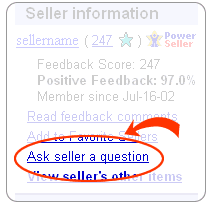 Take a couple of seconds to research your seller so you feel positive and secure about every transaction.

Know Your Purchase

Figure shipping costs into your final price and make sure the seller will insure your tickets when they ship.
Does the seller have a ticket refund policy? If so, what are the terms? If you want more refund information from a seller, ask by clicking the seller's "Ask seller a question" link under their profile.
Know Your Seller
What is the seller's Feedback rating? How many transactions have they completed? What percentage of positive responses do they have? Do they have a lot of Feedback for tickets? How long have they been selling these items?
What do buyers say in their Feedback? Did the seller receive praise?
Does the seller have a return policy? Most top eBay sellers operate like retail stores and have return policies. Do they offer a money back guarantee? What are the terms and conditions?
Buyer Protection
PayPal Buyer Protection: In the unlikely event that something goes wrong, PayPal is there for you. Learn about PayPal Buyer Protection and how your purchases can be covered up to $1,000.
eBay Security & Resolution Center: If a problem arises in your transaction, eBay can help you solve it quickly and efficiently. Visit the Security & Resolution Center to learn more about eBay's resolution tools.