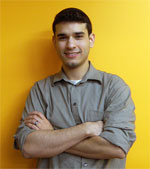 "You have to optimize your eBay titles to have as many keywords as possible. Describe the item before a buyer has to click, with words that buyers actually use in search"
Share your story--
join the discussions for:
---
More seller stories
Savvy listing templates and search-optimized titles equal skyrocketing sales
Thanks to smart research and a data-driven redesign, Jomashop has seen their eBay sales grow by over 600% in the last 19 months.
Founded in 1987 by owner Marvin Sternberg, Jomashop began as a mail order retailer, advertising a range of watches, fine china, luxury crystal and high-end pens in publications like Southern Living and New York Magazine. 22 successful years later, they began selling online via a Yahoo! Store. Non-plussed with the results, they built their own site in 1999, and began selling brand name watches on eBay in 2001.
While achieving better sales than on Yahoo!, Sternberg describes Jomashop's early days on eBay as "a monumental amount of manual work. We were listing single items, one listing at a time. It was profitable, but I wasn't making a lot of money that way. I knew it had to be built into a proper business—regular, ongoing and automated."
Enter Isaac Montaine. Taking the helm as Jomashop's eBay Store and SEO Manager in August 2010, he learned how to best utilize the powerful eBay research tools at his disposal. Armed with a wealth of analytical data and supported by Sternberg's existing programming team, he revamped Jomashop's business on eBay—a redesigned eBay Store, brand-new listing templates, and listing titles optimized for search—both on eBay and via offsite engines like Google. Upon marketing Jomashop's store and listings in this new way, the company's eBay sales have increased by over 600%.
Gathering key learnings from the trade's top tools
"When I first started at Jomashop," Montaine says, "we were using an 'ok' template—it had the same info every other seller had, but didn't really give us a competitive edge. But before I started making any changes, I knew I had to gather key data to see if my changes produced any results. Then I'd have to work through what was working and what wasn't."
When gathering his data and measuring results, Montaigne relied on three main tools: Terepeak, Sellebrity and eBay Listing Analytics. "Terepeak is a great tool—especially when you're sitting on product you aren't currently listing. I used it to compare competitors' inventory to my own—if they were successfully selling items that I had (or had access to), I'd know it was time to get that stuff up on the site. eBay Listing Analytics helped me identify what's selling best and what's doing poorly. When I saw a product wasn't getting impressions, I looked at why—paying special attention to the title. Finally, Sellebrity is a great tool—it lets you track the number of visitors to any given page, see where your page visitors are coming from, and what they're looking at. It also shows you the bounce rate—the percentage of visitors that click in to a page, look around, and click back out without buying—as well as the length of time these visitors are spending looking at your page."
Building a better template
Prior to making any changes to their old template, Jomashop's bounce rate was 97%, and the average time shoppers spent viewing their listings was 7 seconds. Montaine says, "My goal with the redesigned template and updated eBay Store was to decrease the bounce rate, increase the number of visitors, and increase the amount of time these visitors spend on our pages." Upon revamping Jomashop's listings and eBay Store, bounce rates went down 17%, impressions more than doubled, and the average time shoppers spent on Jomashop-related pages jumped to over 1 minute.

Isaac attributes the increase in impressions to the optimization of Jomashop's listing titles. "You have to optimize your eBay titles to have as many keywords as possible—especially on items that have a low number of impressions. Describe the item before a buyer has to click, with words that buyers actually use in search. This helps you with eBay search, Google search, and SEO optimization."

To help decrease the bounce rate and increase the amount of time visitors spent on Jomashop's eBay pages, Montaine created a template that effectively cross-promotes related items and highlights Jomashop's special offers and range of brands. This decreased the amount of visitors leaving the store without buying anything. "My continuing goal is to expose shoppers to items they'll like, until they buy. Sometimes buyers might be more attracted to a different color, or want to shop a different brand. By offering up Jomashop's range of options, brands and offers within our listings, I keep them shopping our products, not those of a competing seller."
Future plans: More items, more brands, more verticals
When talking about 2012, owner Marvin Sternberg is enthusiastic. "We plan on bring more of the offerings from our own site to eBay: jewelry and luxury crystal, for example. We'll also be expanding our offerings in the Watches category. Plan on seeing more variety, and more brands."