See it in action
1. The Seller clicks on "Ask seller a question."
2. The customer may click on the "Find Answers" button to go to your Advanced FAQs or the link to email you a question.
3. Sellers may customize the look and organization of their Advanced FAQs to match their business.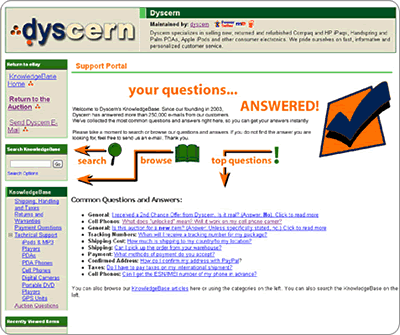 How to get started with Advanced FAQs:
1.
Sign up for an account with one of the providers who offer this service: Hosted Support and Parature. (Note: These providers charge a monthly fee for their service. You'll be charged directly, not through your eBay account.)


2.
Once you've completed sign up, enter your most commonly asked questions along with the appropriate answers. Providers may offer additional options.


3.
Use the token provided by the provider to link your self-service knowledge base to your eBay account.


4.
Go to My eBay>Preferences and then click the "Show" link in the "Ask seller a question" section.


5.
Click the "Edit" link next to "Send buyers to self-service knowledge base."


6.
On the Knowledge Base Preference page, select "Yes," and then click the Submit button.

"eBay's Advanced FAQ feature has allowed Dyscern to reduce our inbound mail volume by more than half while increasing customer satisfaction by providing immediate, detailed answers to our customer's questions."

-Jennifer L. Canty, CEO, Dyscern