Watch experts
Our watch authentication partners at Stoll & Co. have earned their leading industry reputation.
Meticulous inspection
From band to bezel, we inspect your watch to make sure it's authentic and matches the listing.
Premium service
Once it's verified, your purchase is delivered to your door via secure, expedited shipping.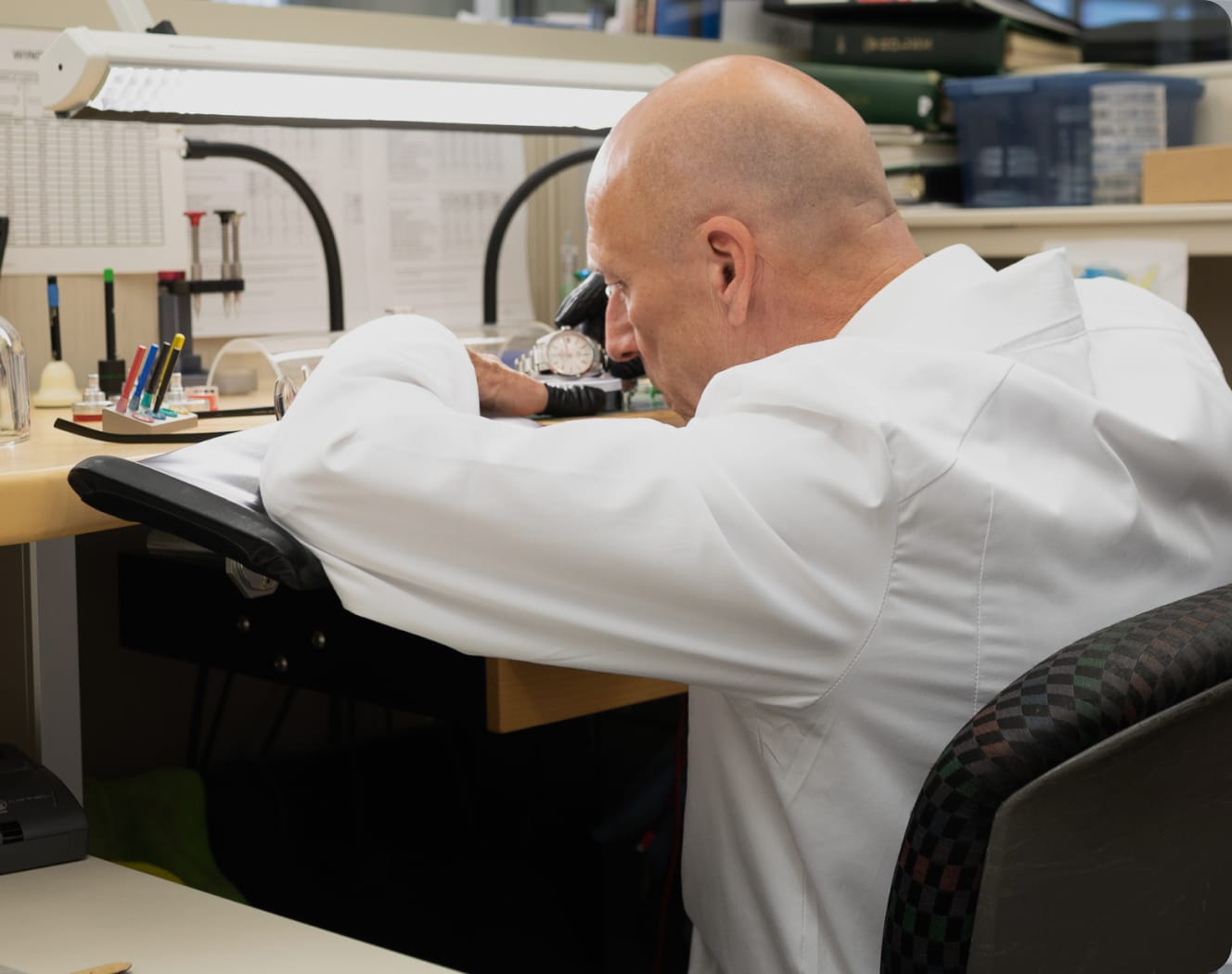 Meet the experts
Get to know the team at Stoll & Co., watchmakers and skilled professionals who bring decades of world-renowned experience to watch authentication.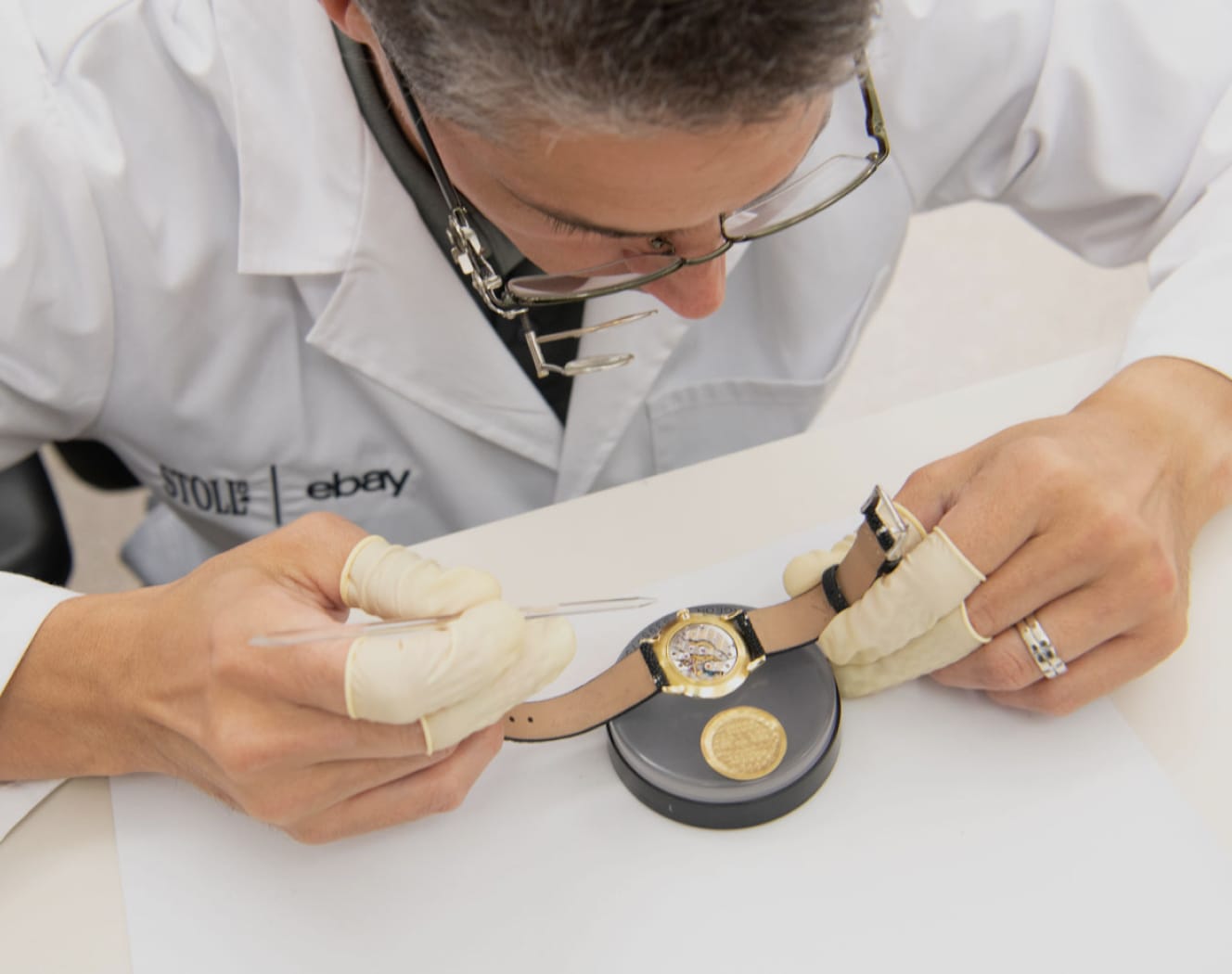 See the process
Take a look behind the scenes as experts carefully verify each timepiece using state-of-the-art tools, document it with a tech-enabled card, pack it in premium packaging, and securely ship it to you.

"Authenticity means originality. A stamp of quality. It's that feeling of confidence when you know you're getting a top-notch piece."
Rob
Stoll & Co. Watch Authentication Specialist

"After you've seen thousands of watches, you recognize what's original to the manufacturer and what's not."
Ray
Stoll & Co. Watch Authentication Specialist

"I've probably seen and touched more watches than any living human being, but I never feel like I've worked a day in my life."
Ron
CEO, Stoll & Company

"When I look at watches, my reputation is on the line, because it's my stamp of approval for an item that comes through this program."
Jamie
Lead Watchmaker, Stoll x eBay Authentication

"That blue check mark means that everything about a watch has been looked at in fine detail. It should give the buyer assurance that the watch is 100% authentic."
Michael
President, Stoll x eBay Authentication

"People worldwide look to Stoll & Co. for our expertise."
Emily
Vice President, Stoll & Company
Browse Authenticity Guarantee
What is Authenticity Guarantee for Watches?
eBay's Authenticity Guarantee is a service designed to help buyers shop with confidence. Our third-party authenticators physically inspect all eligible items before they are shipped to the buyer.
How does Authenticity Guarantee work?
It's easy! Browse and shop eBay's listings with the "Authenticity Guarantee" badge. When you buy an eligible item, the seller sends the item directly to a third-party authenticator. The authenticator will thoroughly inspect and verify your item's authenticity before it is shipped to you safely via two-day shipping with a signature required paid for by eBay!
Will I be charged a fee for Authenticity Guarantee?
No. Through the Authenticity Guarantee service, eBay covers the cost of authentication, as well as two-day, secure shipping from the third-party authenticator facility to the buyer.
What items are "eligible" for Authenticity Guarantee?
Currently, watches listed in the primary category of wristwatches and sold for $2,000.00 USD or more are eligible for the Authenticity Guarantee service. In addition, Auction items in the wristwatch category that are expected to sell above $2,000.00 USD are also included in the service.
Smart watches, watch parts, and accessories are not eligible for authentication. Items specified as customized will not be authenticated. Customized is defined as original brand parts that have been replaced with non-brand parts, or parts not original to the model or era, or components that are modified from the original design. Listings that offer only local pickup or items shipped to P.O. Boxes will not be eligible for Authenticity Guarantee. Any item purchased using an offline payment method will not be eligible for Authenticity Guarantee.
Only items purchased on eBay.com are eligible for Authenticity Guarantee. Items that are listed on eBay.com from select sellers located in Japan, United Kingdom, and Germany for delivery to a buyer located within the US are eligible for Authenticity Guarantee provided that items comply with international import laws including CITES - check back for additional countries to be added. However, items that ship to a buyer address outside the continental U.S. are not eligible for the service.
Listings that offer only local pickup or items shipped to P.O. Boxes will not be eligible for Authenticity Guarantee.
Are vintage watches eligible for Authenticity Guarantee?
A vintage watch is eligible for the Authenticity Guarantee service, if all eligibility criteria are met. Vintage watches which are verified as authentic by the third-party authentication partner may contain replacement parts that are not from the original manufacturer if the original manufacturer no longer makes that part.
Vintage timepieces and many used watches may not be water resistant to their original rating. Please consult a watchmaker before exposing your watch to water. Mechanical watches are more delicate than other types of watches. Take care before undertaking any activity which might place shock on the watch.
What happens at the authenticator?
After the eBay authentication partner receives the watch, the authentication partner first confirms the item and collateral materials are consistent with the listing title, description, and images. Then they will perform a multi-point physical authentication inspection. Finally, a security tag will be attached to the watch.
The eBay authentication partner does not verify the timekeeping accuracy of your watch. Vintage and many used watches may require servicing by an experienced watchmaker to restore accurate timekeeping. If you have any questions about the functions or warranty of your watch, please refer to the seller's description. The Authenticity Guarantee does not offer a warranty.
Who is providing the authentication services?
eBay has partnered with leading industry experts whose services and capabilities have been thoroughly vetted. The authentication partners are leaders in their industry, with years of experience, brand certified watchmakers and technicians, using advanced technical equipment in a state-of-the-art facility.
How long will the authentication process take? How long until I get my item?
After you purchase your eligible item, the seller is required to send the item to eBay's third-party authentication partner, who will process your item within two business days of receipt. Once authenticity is verified, the item will be shipped to you with two-day secure delivery including signature confirmation.
How do I track the status of my item?
The order status will be updated in your "My eBay" purchase history and in the View Order Details section. The shipping status can be seen on My eBay Purchase History. The authentication status can be seen on View Order Details. You will also receive an order update email when your item was inspected by our third-party authentication partner as part of the Authenticity Guarantee service.
Will I receive the original packaging with my purchase?
Yes, if the seller has included original packaging as described in the listing, all components will be sent to you.
What if the item does not pass inspection?
If the item's authenticity cannot be verified or the item's condition is not consistent with its listing, it will be returned to the seller, and the buyer will be issued a full refund to their original payment method.
Can I return items purchased with Authenticity Guarantee?
Buyers can return an item if the Seller accepts returns, as stated in the listing, and the return takes place within the Seller's return window. If the Seller does not accept returns or the return is submitted outside the return window, this will be considered final sale and cannot be returned.
What is Final Sale?
For Watches that are eligible for Authenticity Guarantee, an item is considered Final Sale when:
Item is not eligible for escrow as a payment method.
Item condition is "New with tags" or "New without tags."
Seller return policy for the item is "No returns," or the item's return window has closed.
Once an eligible item passes authentication through Authenticity Guarantee, sellers have completed their obligation to the buyer for that transaction and that item cannot be returned.
Transactions that meet this criteria are exempt from Significantly Not as Described (SNAD) claims under eBay's Money Back Guarantee policy.
Will imported items going through Authenticity Guarantee be subject to Duties and Taxes?
International shipment of items may be subject to customs processing and additional charges.
My item was sent back to the seller because it wouldn't clear customs. What do I do now?
If your item is returned, the seller should work with the carrier and/or broker selected when originally exported the item to the US.
Sellers declare the item's customs value and must comply with customs declaration laws.
Buyers should be aware of possible: delays from customs inspection, import duties and taxes which buyers must pay and brokerage fees payable at the point of delivery.
Are authenticated items protected by the eBay Money Back Guarantee?
For authenticated items, eBay Money Back Guarantee only covers items returned within the seller's return window and items that satisfy the eBay Money Back Guarantee eligibility requirements and are not received or that arrive damaged.
How does the return process work?
If returns are offered on the listing of the item you purchased, the item will first be sent to eBay's authentication partner. Within two business days of receiving the item, the authenticator will inspect to confirm that the item returned matches the item originally sent to you by verifying the authenticity and condition. In addition, the security tag must be attached to the item and untampered to be eligible for a return. Once verified by the authentication partner, it will be shipped to the Seller and a refund will be processed. The seller or buyer (as defined by the listing) is responsible for shipping costs to the authenticator, and eBay covers the shipping cost to the Seller.
Why was the item sent back to me by the authenticator after I opened a return?
If the third-party authenticator determines the returned item is not the same item, is not in the same condition, or the security tag has been tampered with or removed, it will be sent back to the buyer.
Is there an authentication card?
Yes, all items verified as authentic come with a card which provides details about the item such as brand, model, reference number, movement type, case material, bracelet type, and serial number, as applicable.
Can I choose to not have my item authenticated?
No.
The Authenticity Guarantee service for Watches ("Authenticity Guarantee" or "Authenticity Guarantee for Watches") makes inspection and authentication services ("Authentication Services") mandatory for certain items sold on eBay.com. These Authenticity Guarantee Terms and Conditions ("Terms") apply to the Authenticity Guarantee service for Watches and Authenticity Guarantee Eligible Items (description in Section 6(a) below) sold and purchased on eBay.com and sets out the terms on which eBay offers you access to and use of the Authenticity Guarantee service for Watches.
Applicability of eBay User Agreement and Other Policies.

The eBay.com User Agreement, eBay's User Privacy Notice, eBay's Stolen Items Policy, and all other policies posted on our sites (collectively, and as the same may be amended from time to time, "eBay's Policies") apply in addition to these Terms. In the event of a conflict or inconsistency between these Terms and eBay's Policies, these Terms will control as to all matters that they explicitly address. For all matters not explicitly addressed by these Terms, eBay's Policies will control.

Applicability of eBay's Money Back Guarantee.

For authenticated items, purchases are covered by eBay Money Back Guarantee when all other eligibility requirements are met and the item is not received, or the item arrives damaged, or the seller doesn't fulfill their return policy as stated in the listing. Learn more about eBay Money Back Guarantee.

Description of the Authenticity Guarantee Service.

After the purchase of an Authenticity Guarantee Eligible Item (description in Section 6(a) below) on eBay.com, the item is shipped to an authentication facility ("Authentication Facility") to carefully inspect the item's authenticity and conformity to the item's listing details. Upon confirmation of the item's authenticity by the Authentication Facility, the item is securely shipped to the buyer. If the item's authenticity cannot be verified or the item is not as described, the item is returned to the seller and a refund is issued.

Description of the Authentication Services.

The Authentication Services are provided by an authentication team for Authenticity Guarantee Eligible Items purchased and delivered within the continental United States. Within two (2) business days of receipt, our authentication team will inspect the item for accuracy against the item listing by checking logos, tags, materials, hardware, quality, and more as applicable, and for accuracy against the item listing. The authentication team will not inspect the watch for waterproofing or accuracy of the timekeeping.

Items may also be photographed for use by eBay or its licensees as part of eBay's image catalog or for any other purpose, at eBay's exclusive discretion.

By listing for sale or purchasing an Authenticity Guarantee Eligible Item, you acknowledge and agree that the Eligible Item is sent to the Authentication Facility for an authentication team to perform the Authentication Services. More information about the Authentication Facility and Authentication Services may be found here.

Authenticity Guarantee Program Fees.

The Authentication Services are provided at no cost to sellers and buyers for Authenticity Guarantee Eligible Items that are bought or sold on eBay.com; however, eBay reserves the right to institute, alter or amend fees or costs associated with the Authentication Services, at any time, at eBay's sole discretion.

Eligibility.

Item Eligibility.

Item Eligibility. Only select listings on eBay.com are eligible for the Service. eBay reserves the right at any time, in its sole discretion, with or without notice to you, to alter or amend the eligibility requirements for Authenticity Guarantee Eligible Items, including, but not limited to category, and/or value of items and/or transactions. Ineligible items will not be authenticated. eBay reserves the right to charge sellers for costs affiliated with processing miscategorized items or to impose additional consequences including account suspension where items are improperly routed to avoid Authenticity Guarantee. More information about Eligible Items may be found in the FAQs here.

Country Eligibility.

The Authenticity Guarantee program is not available for all countries. eBay reserves the right to expand or limit the countries eligible for the Authenticity Guarantee program or the Authentication Services at any time, in its sole discretion, with or without notice. The countries currently eligible may be found in the FAQs here.

Party Roles

Your Role as Seller.

By listing an Eligible Item for sale on the eBay platform, you authorize its inspection by the authentication team subsequent to its purchase. Upon purchase, you are required to ship the Eligible Item, with appropriate insurance coverage, to a facility located within the United States, as directed by eBay; the cost of shipping to the Authentication Facility is not covered by eBay. You acknowledge and agree that if the authentication team cannot verify an item's authenticity, a refund will be issued to the buyer and you will cooperate by removing the item from marketplace circulation.

Your Role as Buyer.

By purchasing an Eligible Item on the eBay platform, you acknowledge and agree to inspection and photographing of the Eligible Item by the authentication team prior to your receipt of the Eligible Item. In addition, if a return is requested, you acknowledge and agree to ship the Eligible Item, with appropriate insurance coverage, to the Authentication Facility and to the inspection of the Eligible Item by the authentication team before the return is processed or a refund is issued. More information on returns under the Authenticity Guarantee can be found here.

Circumvention of Buyer and Seller Requirements.

If buyer or seller circumvent or do not comply with Sections 7.a or 7.b of these Terms, or if buyer or seller violate or are found to be non-compliant with the Terms, eBay reserves the right to take immediate action such as, but not limited to, account restriction or suspension or the transfer of fees and costs associated with Authenticity Guarantee.

Impact of Fraud Detection on Buyers and Sellers.

You acknowledge and agree that if our authentication team detects fraud or is unable to authenticate the item, the item will be removed from marketplace circulation - neither buyer or seller will receive the item; in addition, eBay will work with the proper authorities as needed and reserves the right to confiscate and destroy any items unable to be authenticated.

Data Privacy.

eBay's collection of personal information in connection with the Authenticity Guarantee program is governed by the privacy policy that applies to your use of the eBay.com website or, as applicable, another eBay international site. In order for the Authentication Facility to provide the Authentication Services under the Program, the order information, including, but not limited to your name, address, email address, telephone number, is provided to the Authentication Facility. By selling or purchasing an Eligible Item, you direct eBay to provide this order information to the Authentication Facility, who may disclose this information, however collected, to its affiliates, service providers, and other third parties (such as shipping carriers and revenue authorities) as necessary to perform the Authentication Services.

Lost, Damaged, or Items Not Delivered.

Items that are lost or damaged during the Authenticity Guarantee process are covered by eBay Money Back Guarantee, subject to the eBay Money Back Guarantee eligibility and guidelines. If a buyer or seller refuses to accept delivery of a package sent to his/her address on file or is otherwise unable to be reached, eBay will use commercially reasonable efforts to contact the buyer or seller and will consider the property abandoned after thirty (30) days. Once abandoned, the buyer or seller relinquishes all right, title, or interest in the item and authorizes eBay to dispense of the item as eBay sees fit.

Program Updates and Discontinuation.

eBay has the right to alter, amend, replace, suspend temporarily, and/or discontinue permanently, the Authenticity Guarantee program, the name of Authenticity Guarantee, any of the Authentication Services provided under the program, features, and/or functionality offered under Authenticity Guarantee, and/or the service providers used to provide any or all of the Authentication Services under Authenticity Guarantee, at any time, in its sole discretion, with or without notice to you.

Amendment.

eBay may amend these Terms, including applicable fees, at any time by posting the amended terms on the eBay site. Except as stated elsewhere, all amended terms shall take effect immediately and automatically when posted on the eBay site.